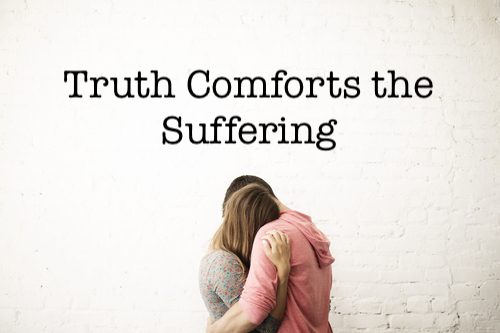 But Truth is a Person, and that is the key difference in facing suffering from a Christian perspective.
Our world is filled with suffering. I was telling a story of my days as a police officer and my struggles (to this day) in dealing with the suffering of children. I was almost suspended from duty one night by my commanding officer when I refused to work a horrific car crash until the paramedics removed the body of a child from the wreck. I just simply could not do my job with that image of a suffering child in front of me. Fortunately, the commanding officer took pity on me and allowed me to resume my work at the accident after the ambulance had left.
I am dumbfounded by suffering.
And yet, we humans suffer. We could talk all day about the different kinds of suffering, physical, emotional, and even spiritual, but suffering is a part of all our lives in one way or another.
So, how do we deal with suffering? The Christian Faith tackles suffering head-on. The Faith insists we face suffering as both a very real thing AND a temporary thing. In fact, suffering is right at the center of Christianity in the suffering of Jesus, but, and this is a big deal, it isn't the whole Story!
Look at our lesson today in 2 Corinthians 1:1-7:
PAUL, an apostle of Christ Jesus by the will of God and Timothy our brother.

To the church of God which is at Corinth, with all the saints who are in the whole of Achaia:

Grace to you and peace from God our Father and the Lord Jesus Christ.

Blessed be the God and Father of our Lord Jesus Christ, the Father of mercies and God of all comfort, who comforts us in all our affliction, so that we may be able to comfort those who are in any affliction, with the comfort with which we ourselves are comforted by God. For as the sufferings of Christ abound for us, so also our comfort abounds through Christ. If we are afflicted, it is for your comfort and salvation; and if we are comforted, it is for your comfort, which you experience when you patiently endure the same sufferings that we suffer. Our hope for you is unshaken; for we know that as you share in our sufferings, you all also share in our comfort.
This is another letter St. Paul wrote to his parish community in Corinth. It is a response to the good changes the community had made after Paul had to exercise his Apostolic authority to correct some serious problems in the Church there. One of the main problems was a member of the parish that was in a very immoral relationship. In the first letter, Paul had said that this man must be excommunicated so that he would learn not to blaspheme. Notice, this isn't punishment but medicine to heal! Well, the Church at Corinth obeyed, but now the man has repented and they still won't let him back to communion, so Paul has to write them and tell them "Hey, he's repented. Restore communion! The spiritual discipline worked!" Time to comfort the suffering person!
No wonder Paul begins this letter to the Corinthians with the theme of comfort! He calls God "the Father of mercies and all comfort." He begins to correct the zeal of these Corinthians by appealing to WHO God is rather than browbeating them and telling them they've been bad. And that's how we should learn to correct and comfort, by spending most of our time getting to know God Himself. That will rub off on you IF you spend enough time with Him! This is precisely why Truth is not a set =of ideas or precepts but the Person of Jesus Christ. Paul uses God's WHO to train the Corinthians about suffering and comfort!
Paul says the sufferings of Jesus were for our comfort. And he insists that his own sufferings are for the comfort of others. All of this flows from the eternal perspective about everything, even suffering. Ultimately, if we have the courage to see this, every moment of our lives, both good and bad and everything in between, possesses the potential to teach us eternal truths which comfort us with everlasting comfort! Talk about comforting words! Wow! And this flows not from trying to pretend suffering isn't real, or that we should just "tough" it out. But that the COMFORT of suffering centers in the communion of Persons – Relationships!
Paul ends his passage today with profound words that inescapably lead to the reality that we are MADE for mutual suffering and comfort. We are made for Communion together. We are made to experience the Faith "once for all delivered to the saints" as a community. As a wise man once said, "One Christian is No Christian." We are meant to do this life together, through thick and thin! And in the mystery of our togetherness, we face suffering with meaning and joy without end!
St. Laurence the Archdeacon of Rome and a holy martyr for the Faith exemplified this attitude towards suffering and the real treasures of the Church. Around the year 257 AD. St. Laurance was the archdeacon of Rome. This meant he was in charge of helping the poor and needy and taking care of the vessels of the Church that were holy and valuable. When Emperor Valerian launched a great persecution of the Christian Church, he had Pope Sixtus, who was from Athens, arrested. Pope Sixtus entrusted the treasures of the Church to Laurance and when the Emperor had Sixtus beheaded for his Faith, he demanded Laurance turn over all the treasures of the Church to the Empire. St. Laurence asked for three days to gather all the treasures of the Church. After the three days had passed, the Romans demanded Laurence produce the "treasures" of the Church. Laurence had gathered all the suffering poor and needy of the City and presented them to the local Prefect with these words "Behold, the treasures of the Church." With this, Laurence was arrested and suffered terrible torture. At one point, while being tied to a red-hot grill, the saint told his tormenters "I am done on one side, turn me over on the other." St. Laurance gave his life on August 10, 258 AD after having lived a life where suffering was always held in perspective to the victory of Jesus Christ over suffering!
Today, are you suffering? Well, if you are a Christian, you are not suffering alone. We all suffer with you and share your suffering so that your suffering isn't too heavy for you to bear! And, in doing this, we show the whole world the way to enter into the joys of communion, to live a Normal Orthodox Life!
P.S. Aflame in your heart, O Laurence, with the fire divine, you burned away the fire of passions utterly, O firm staff of athletes, O you God-bearing Martyr; and you in truth while contesting cried out with faith: Nothing shall separate me from the love of Christ.
"Father, thank you for your daily devotionals. My wife and I read it every morning together." Thank you for this kind note and for your support of Faith Encouraged

Related Articles