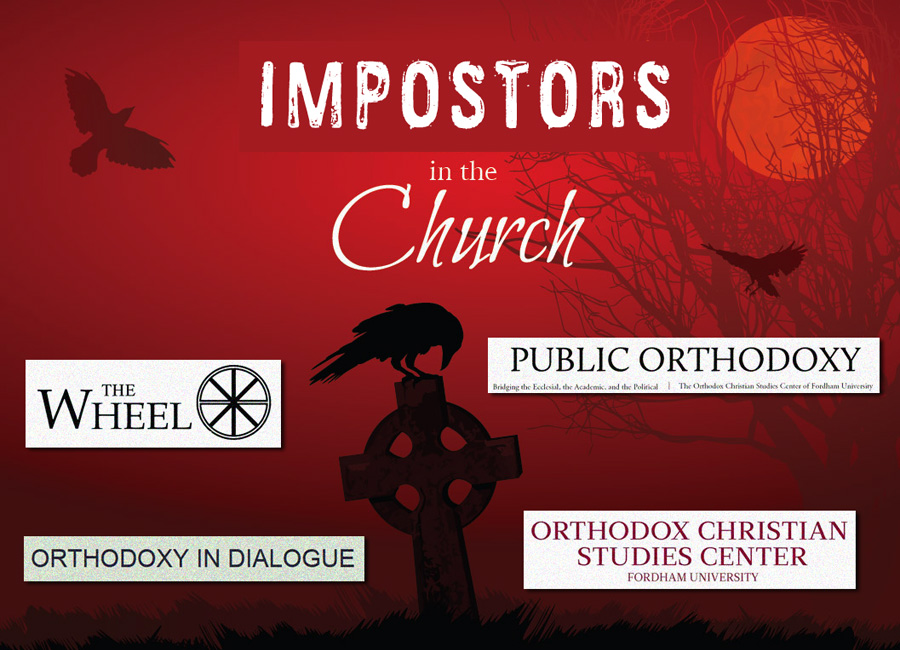 by Fr. Ioannes Apiarius –
Faith is Fear, Tradition is Tyranny, Sin is Virtue, Truth is Falsehood, Order is Oppression
An Orwellian, ungodly spirit continues to engulf and embolden homosexual and academic activists (inside and outside the Orthodox Church) who seek to normalize homosexuality, legitimize "gay marriage," and incorporate the LGBTQ madness in the teaching, practice, theology, and sacramental life of the Orthodox Church.
To counter and call to repentance those deceptive voices, the OCA Synod, at the latest All American Council of the Orthodox Church in America, issued a clear and direct statement that categorically rejects same-sex unions and any of the false LGBTQ sexual identities that contradict the right order and theology of the Orthodox Christian faith: "We reject any attempt to create a theological framework which would normalize same-sex erotic relationships or distort humanity's God-given sexual identity."
Professor Edith M. Humphrey accurately describes the Synod's pastoral approach: "the welcome words of our God-fearing fathers are marked by a courage that sets us free for fruitful and faithful exploration of the mystery of human sexuality, by a generous inclusiveness that calls all to a life of repentance and humility, and by a clarity of vision that shines a guiding light for the faithful in a time of great anthropological confusion….We are thankful to the bishops for setting us on such a firm foundation, with welcoming but wise words, and in holding to the life-giving words that we have received in the Scriptures and in the fathers."
The outrage from the progressive activists was swift and predictable. Several deceitful missives, full of unjustified accusations, distortions, and mischaracterizations, were published by Inga Leonova (The Wheel), Gregory Tucker (Public Orthodoxy), Giacomo Sanfilippo (Orthodoxy in Dialogue), Sarah Riccardi-Swartz, Katherine Kelaidis, and Dcn. Nicholas Denysenko (Public Orthodoxy).
(See key excerpts from the unrepentant activists reproduced at the bottom of this post.)
There is no hint of remorse or repentance from those who embrace the LGBTQ ideology and misuse the calls to "dialogue" and "academic freedom" as excuses to legitimize disordered sexuality and normalize homosexual sins within the Orthodox Church. "Those who are seeking to normalize same-sex relations within the historic Church have charged our good bishops with fearful oppression, callous exclusion of those struggling with sexual passions, and lack of pastoral concern for their flocks," observes Professor Humphrey in her analysis. She rightly states that there's not truth or legitimacy to those wild accusations.
For those unfamiliar with these false teachers, here are several self-explanatory summaries:
Inga Leonova is the creator and editor-in-chief of The Wheel. She's an outspoken critic of the moral teaching of the Holy Orthodox Church. She frequently attacks and defames Orthodox Christian priests and bishops who preach and defend the right theology of the Orthodox Church. Inga wants women to be priests and bishops, has repeatedly declared that homosexual activity is not sinful, and she fully supports the LGTBQ agenda. She is also an advocate for welcoming same-sex couples into the sacramental life of the Orthodox Church.

Gregory Tucker is a graduate of St. Vladimir's Seminary and PhD student of Fordham University. He is on The Wheel's editorial board. He's also a regular contributor to Public Orthodoxy (run by George Demacopolous and Aristotle Papanikolaou). Tucker is involved in a homosexual "marriage" with a former hieromonk who gave up his priesthood and broke his monastic vows to live with Tucker. Tucker is a homosexual activist who fights to shove the LGBTQ agenda inside the Orthodox Church.

Giacomo Sanfilippo (also known as Peter J. Sanfilippo) is a former Orthodox priest who was defrocked for inappropriate homosexual behavior (suspended from priesthood in 1995, divorced in 1999, deposed in 2002). Sanfilippo is founder of the Orthodoxy in Dialogue website which he has used to drive an unholy vendetta against multiple Orthodox Christian priests, bishops, and seminary professors who rightly uphold and defend the Orthodox Church teaching on homosexual sin and LGBTQ delusions. Giacomo proudly describes himself as "The Orthodox Church's most famous living gay man" and fights to normalize homosexuality and same-sex "marriage," and bring the transgender delusion into the Orthodox Church.
As warned several years ago, the Orthodox Church is continually attacked by false teachers and deceitful venues that question, challenge, mock, deconstruct, contradict, and distort Church teaching, practices, and theology.
That war against the true teaching and right theology of the Orthodox Church is intensifying. Emboldened by their rebellion and lack of repentance, false teachers keep escalating their assaults on the Church. They insist they are the only "legitimate, tolerant, and enlightened" guides who can "help" the Church change with the times, while they accuse faithful priests and bishops of "homophobia" and "transphobia."
As Fr. Victor Potapov reminds us, "Christ calls men to the saving truth, whereas the devil, through his servants, i.e., the false teachers and tempters, sows ruinous falsehood and errors in the minds of men, and in their hearts sows various vices, embellishing all this with similitudes of truth and goodness." Fr. Potapov also warns us that the "devil sows tares, says the Lord, while men sleep. In other words, the devil sows his tares secretly, unnoticeably, when the guards appointed to look after the field, that is, the pastors of the Church, keep watch inadequately, and when the faithful themselves live carelessly as well and listen too credulously to impostors and false teachers."
Providentially, in attacking more faithful shepherds of the Church, the impostors reveal themselves as tares and hirelings who betray the Master and scatter the sheep. The Lord is allowing the faithful and rational sheep to see exactly who these darkened individuals are and how far they've strayed from the true teachings of the Orthodox Christian Church.
It is fitting and right that the OCA bishops have taken a stand against those who want to normalize homosexuality, push the Church to accept and bless "gay marriage," and insist on introducing the LGBTQ delusions into the Orthodox Church.
According to Orthodox Christian theology and universal teaching, passions and sexual distortions do not define human beings. Orthodox Christians can never identify as "homosexual, gay, transsexual, queer, bisexual" or self-identify with any other sin, sexual distortion, delusion, or depravity included in the LGBTQIAWXYZ growing list of non-Christian and anti-human categories.
Orthodox Christians who believe that Jesus Christ is Lord, the Son and Word of the living God, True God of True God, the Redeemer and Saviour of all mankind, must reject the "gay" or "homosexual" or "queer" or "transsexual" other LGBTQ+ identities and labels if they want to remain in the Orthodox Church and desire to partake in Her sacramental life. Demanding that the Church accept and bless these particular sexual sins is unacceptable. It's outright rebellion against God and the Church. (Not Gay or Homosexual, but Men and Women Created in the Image and Likeness of God)
Let's hope and pray that the bishops follow through on their warnings and act in accordance with their stated beliefs and sacramental duties. True shepherds always stand guard and protect the sheep. Faithful shepherds confront brazen impostors and remove unrepentant false teachers who deceive the faithful and scandalize the Church.
– Fr. Ioannes Apiarius

Key Excerpts from Scandalous and Homosexual Activists
Freedom from Fear: Editorial Response to the Statement of the Holy Synod of the Orthodox Church in America
Inga Leonova & The Wheel – 7/22/2022
www.wheeljournal.com/blog/2022/7/22/on-freedom-from-fear-editorial-response-to-the-statement-of-the-holy-synod-of-the-orthodox-church-in-america
…The "Statement on Same-Sex Relationships and Sexual Identity" issued by the Holy Synod of the Orthodox Church in America on July 21, 2022, at the All-American Council in Baltimore stands in direct contradiction to the spirit of discourse and discernment that has propelled the development of Orthodox tradition.
…
Unfortunately, the language of the Synod's statement offers a picture of church tradition that has nothing to do with its history, and aims to ossify poorly-understood notions as a collection of museum artifacts.
…
The phenomenon is the same: fear of change, derived from a misconception that the past holds all the keys to all questions—present and future—drives rejection of freedom. Fear of change replaces authority rooted in prayer, study, and open discourse with the whole Church with tyranny.

And fear of losing power drives repression, which is the source of threatening clergy and laity with disciplinary action—for what? For exercising academic freedom and affirming freedom of theological and intellectual discourse, which is the lifeblood of the Orthodox tradition.
…
As an independent and pan-Orthodox publication, we reaffirm our commitment to open dialogue and debate on all topics facing the Orthodox Church in the modern world, including gender and sexuality. We will continue to publish authors who seek to question and probe long-held assumptions in the pursuit of truth.
Fullness of Faith or Fullness of Fear?
By Gregory Tucker – 7/22/2022
publicorthodoxy.org/2022/07/22/fullness-of-faith-or-fullness-of-fear/
…It is therefore disheartening to read the latest statement of the Holy Synod of the Orthodox Church in America on same-sex relationships and sexual identity, which appears to intend to stifle genuine, faithful intellectual inquiry and cultivate a climate of fear.

Much in this text is unremarkable, little more than a rehearsal of apologetic tropes, and a repetition of statements issued previously. Nobody can honestly claim that the position of the Holy Synod of the OCA on these topics is unclear.
…
It is clear that the OCA's Holy Synod not only considers the matter closed (an assertion that it is at liberty to make, however unwise) but now feels the need to threaten discipline against any member of the church who dares to suggest otherwise—at least, in print, preaching, or teaching. This statement therefore apparently seeks to terminate open and accountable theological discussion of one of the most pressing topics in contemporary church life.
…
There is no space in this essay even to begin to address the theological and pastoral questions that arise in relation to same-sex relationships and identities.
…
The second is that frameworks for the conceptualization of sexuality, sexual relations, sex, and gender are historically conditioned and thus subject to change—and this is true for everyone, past and contemporary Christian theologians included. In historical terms, it is simply indefensible to claim either that the Christian tradition (even in the pre-modern period) is completely unanimous or that the historical meaning of key terms, concepts, and discussions is immediately available to us without considered investigation.
…
It is, therefore, all the more perplexing to me that such a stark condemnation of discussion of these issues has been forthcoming. I can only understand it as the manifestation of a deep fear that has yet to be driven out by the light of faith.
…
Lamentably, this latest synodal ban occludes this truth and seeks to silence the relatively small and (frankly) quite successfully marginalized group of thinkers who are prepared to raise dissenting voices. This statement is to be rejected and resisted in the name of a perfect truth and love that casts out fear.
OCA Synod of Bishops Slams Door Shut on Gay, Lesbian, and Transgender Orthodox Christians
By Giacomo Sanfilippo – July 21, 2022
orthodoxyindialogue.com/2022/07/21/oca-synod-of-bishops-slams-door-shut-on-gay-lesbian-and-transgender-orthodox-christians/
Let Orthodoxy in Dialogue be the first to go on record "disobeying" the Holy Synod of Bishops of the Orthodox Church in America. Perhaps His Beatitude, Their Eminences, and Their Graces need reminding that demanding "obedience" is not how the Church works. Conciliar and Synodal decrees await reception by the whole body of the Church. We know from history that this does not take place overnight.

Orthodoxy in Dialogue rejects this Synodal directive and its false premises. The Synod takes none of the evolving science on sexuality and gender into account.

Orthodoxy in Dialogue will continue to serve as the Orthodox Church's main public forum for the open theological, anthropological, spiritual, and pastoral exploration of sexual and gender diversity in human nature and in our life in Christ.
Orthodox Church's Authoritarian Anti-LGBTQ Statement Poses Serious Threat to Academic Freedom
By Sarah Riccardi-Swartz – July 29, 2022
religiondispatches.org/orthodox-churchs-authoritarian-anti-lgbtq-statement-poses-serious-threat-to-academic-freedom/
… the Orthodox Church in America recently released an encyclical that, on the surface at least, recapitulates the long-held doctrines of the OCA concerning same-sex marriage and gay rights, reinforcing heterosexual hegemony as the only moral gateway to salvation.

Going beyond the edict and long-held doctrines, however, the Synod of the OCA also included a clause aimed at the suppression of any and all Orthodox academic research and free speech that relates to LGBTQAI persons and their rights:
…
As a social critic and caretaker of Orthodoxy, it's clear that this latest OCA encyclical is not meant to simply reinforce the teachings of this Orthodox jurisdiction on sexuality and gender (much of which was already put forth at an AAC meeting in 1992, a period of time when the culture wars were also in full swing); rather, this newest statement is aimed specifically at silencing research and dialogue about the Orthodox LGTBQAI community.

In other words: Orthodox academic free speech is under threat.
…
While the document only uses the terms "same-sex" and "[those who] distort humanity's God-given sexual identity" to refer, ostensibly, to all LGBTQAI+ persons, it's quite direct in its theological refusal of anything outside of the singular notion of heterosexuality.

The matter of who might be corrected for their ideas and academic considerations is a bit murkier. Who will be subject to this punitive form of arrogant spirituality?
…
That the Synod of the OCA would renew their stance on sexuality and gender isn't shocking; what does surprise me, however, is their use of reactionary and authoritarian tactics to take on what they appear to believe are moral thought crimes.

The disciplinary statement issued by the Synod suggests that they might be taking a page from the playbook of far-right Orthodox ideologues online who call for the excommunication and even "the purge" of American Orthodox scholars.
…
Totalitarianism, authoritarianism, fearful purity partitioning—we could call this latest move by the OCA hierarchy many things.
…
The author would like to thank Gregory Tucker and Robert Saler for their beneficial input.
Unprecedented Anti-LGBTQ Statement By Orthodox Church in America Should Be Christian Nationalist Warning Sign to US Orthodoxy
By Katherine Kelaidis – July 25, 2022
religiondispatches.org/unprecedented-anti-lgbtq-statement-by-orthodox-church-in-america-should-be-christian-nationalist-warning-sign-to-us-orthodoxy/
Late last week, the Orthodox Church in America, the second largest Orthodox church body in the country, issued an unprecedented statement seeking to silence any discussion about same-sex relationships and the sacramental inclusion of LGBTQ people in the life of the Orthodox Church. The statement is particularly chilling as it:
…
Those who refuse to comply are threatened with, "ecclesiastical discipline." In short, this statement represents a clear shot across the bow, not only of LGBTQ people and their allies, but of freedom of thought and expression within the OCA, and perhaps in the Orthodox Christian world more broadly.

While it's difficult to pinpoint a single "triggering event" for the release of this statement, it should be noted that earlier this month Archbishop Elpidophoros, the head of the Greek Orthodox Archdioceses of North America (GOA), the largest American Orthodox jurisdiction, presided over the baptism of twins born to a Greek-American gay couple. As is entirely predictable at this point, while the Archbishop's decision won praise in many quarters, it was roundly and brutally condemned by conservatives throughout the Orthodox world, including with the jurisdiction he heads.
…
Whatever the motivation, the OCA Synod's statement is the most recent, and arguably egregious, incident in what can only be described as a concerted takeover by extremists of the OCA, once among the most progressive Orthodox bodies in the world.
…
Over the past decade, the OCA has continued to follow the path that Metropolitan Jonah laid for it. It should not go unnoticed that Metropolitan Tikhon, the current head of the OCA, is also a convert from the Episcopal Church, and one who seems equally fixated on culture war issues—particular, abortion and same-sex marriage—as his predecessor.
…
Of course the Holy Synod of the OCA doesn't want to have a conversation. They want to simply crush opposition and silence the debate. In doing so, they're leaning into a brand of authoritarianism that would make even the imperial Orthodox leaders of old blush.
To Baptize or Not: God's Love and Image
By Dcn. Nicholas Denysenko – July 25, 2022
publicorthodoxy.org/2022/07/26/to-baptize-or-not/
… The outcry over the decision to baptize these children [surrogate babies of homosexual "married" men] represents today's zeitgeist. At the official level, many of the world's Orthodox Churches have taken sides in the culture wars on human sexual identity.

Orthodox rejection of same-sex attraction, relationships, and marriage categorizes LGBTQI people as a special type of sinners that warrants expulsion from the community.

The official Church teaching on homosexuality does not represent a consensus within the Church.

Many theologians believe that the issue is unresolved and requires much more study, consultation with the scientific community, prayer, and reflection, even if synods [referring to OCA Synod specifically] attempt to mute public theological discussion of the topic.

The homophobic spirit of some Orthodox who have a binary view of the world (e.g., saints or sinners) diverts attention away from the truly pastoral issue at hand: the relationship between God and the children of this couple, and any other couple or single parent for that matter.
—————————————————
(Minor organizational edits and bolding of key words and/or phrases done by blog editors done to enhance readability.)