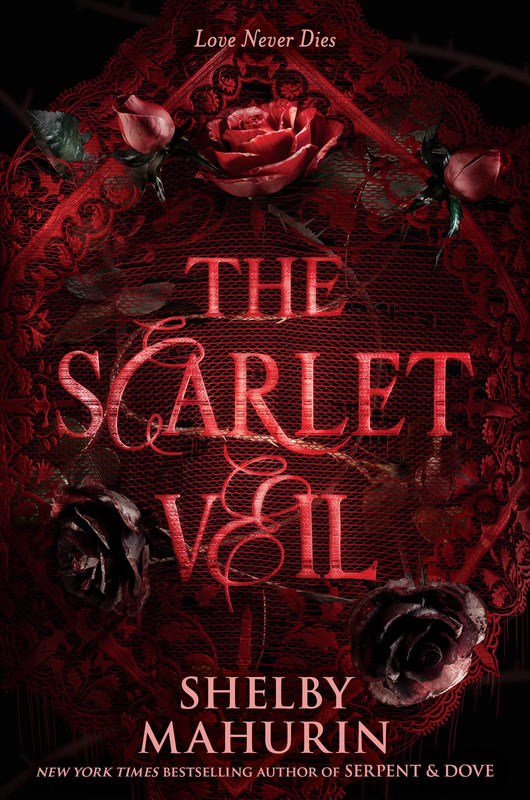 The Scarlet Veil by Shelby Mahurin
A new darkness is rising.
Six months have passed since Célie took her sacred vows and joined the ranks of the Chasseurs as their first huntswoman. With her fiancé Jean Luc as captain, she is determined to find her foothold in her new role and help protect Belterra. But whispers from her past still haunt her, and a new evil is rising—one that Célie herself must vanquish, unless she falls prey to the darkness.
This dark and thrilling vampire romance—set in the world of the New York Times bestselling Serpent & Dove series—is perfect for fans of Sarah J. Maas.
640 pages, Hardcover
Expected publication September 26, 2023
I loved this! If you enjoyed the Serpent & Dove series, you'll most likely like this one too. While this is a spinoff, it does help to read the first trilogy. There are spoilers for those books below.
The Scarlet Veil is told by Celie. She's engaged to Jean Luc and has become close friends with Lou, Reid, Coco, and Beau. Celie is the only woman Chasseur, but she's treated differently by Jean Luc who runs things. She is treated like a fragile doll. She does still have nightmares about her sister Pip, but she's also super smart. She overhears everyone talking about bodies that have been found. They have kept it from Celie and she gets pissed. She takes off to investigate more and is taken. What Celie discovers is a world of vampires. She starts to learn things about herself and gain some self esteem. These vampires are monsters, but they also seem to see Celie more than Jean Luc does. Michal is the king and she's staying with him. His cousins Odessa and Dimitri are also there. Even though she tries to hate them, Celie starts to enjoy her time with all three. She finds out that she's in danger, but it's not from the vampires. The killer wants her and will stop at nothing to get Celie's blood.
I loved the new characters in this. The ending was a cliffhanger and I can't wait for the next book. This is a long one (over 600 pages), but the pacing was good after the slower first 1/4 or so. Even then, it wasn't a very slow paced book.
I gave this book 5 stars.
Thank you to the publisher and Edelweiss for my earc.
Have you read this yet?  Is it on your TBR?  Did you enjoy the author's other books?