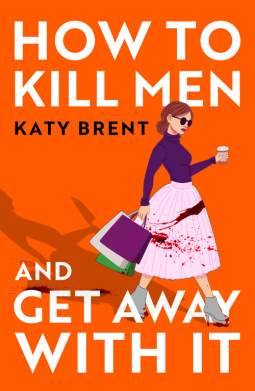 How to Kill Men and Get Away With It by Katy Brent
Meet Kitty Collins.
FRIEND. LOVER. KILLER.
He was following me. That guy from the nightclub who wouldn't leave me alone.
I hadn't intended to kill him of course. But I wasn't displeased when I did and, despite the mess I made, I appeared to get away with it.
That's where my addiction started…
I've got a taste for revenge and quite frankly, I'm killing it.
A deliciously dark, hilariously twisted story about friendship, love, and murder. Fans of My Sister the Serial Killer, How to Kill Your Family and Killing Eve will love this wickedly clever novel!
This book was a lot of fun to read. I actually laughed quite a few times which I didn't expect. It's definitely dark at times and talks a lot about attacks on women.
Kitty is a rich influencer with a small group of friends. She goes out a lot, but doesn't really date. Not since the love of her life broke her heart. She still gets hit on a lot and men don't always take no as an answer, especially drunk men. After dealing with one of these men, she accidentally kills him. It didn't bother her. At all. In fact, she kills more. Kitty starts looking for men that target women. She has standards and her own set of rules. She starts to really enjoy killing and disposing (super gross) of these men. She hides this side of herself from her friends and the man that she's starting to like. Kitty has a lot of dark secrets from her past and they are slowly revealed throughout the book.
I liked all the fashion/brand talk in this. The friends were interesting. Not great people, but I did like a couple. Charlie was sweet, but it felt weird how quickly they got attached to each other.
I gave this book 4 stars.
Have you read this yet?  Is it on your TBR?