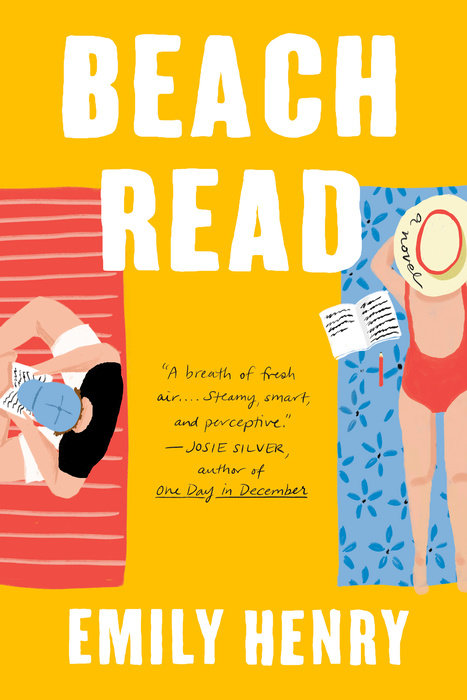 Beach Read by Emily Henry
A romance writer who no longer believes in love and a literary writer stuck in a rut engage in a summer-long challenge that may just upend everything they believe about happily ever afters.
Augustus Everett is an acclaimed author of literary fiction. January Andrews writes bestselling romance. When she pens a happily ever after, he kills off his entire cast.
They're polar opposites.
In fact, the only thing they have in common is that for the next three months, they're living in neighboring beach houses, broke, and bogged down with writer's block.
Until, one hazy evening, one thing leads to another and they strike a deal designed to force them out of their creative ruts: Augustus will spend the summer writing something happy, and January will pen the next Great American Novel. She'll take him on field trips worthy of any rom-com montage, and he'll take her to interview surviving members of a backwoods death cult (obviously). Everyone will finish a book and no-one will fall in love. Really.
This made me tear up a bit at the end. I'm such a sucker for romance and I'm a bit of a hopeless romantic. I tend to cry with both sad and happy things with love.
I finally picked this one up after missing out last summer. It wasn't quite the summer read I thought, but I'm still glad I read it when I did. I adored both January and Gus. There is a lot of sadness with death, abuse, talk of a cult, and cheating. Gus doesn't do well with any of it. January can put on a good face, but she's struggling after the death of her father. She finds out his secrets and it's constantly bothering her. She wants to get things cleaned out of the house and sell it. January was shocked to find Gus as her neighbor. He's a writer she knew and crushed on in college. But she also didn't like him because he made comments about her books all having happy endings. They are both writers and end up making a bet with each other. They will each write a book outside their genre and similar to what the other writes. The two are obviously attracted to each other from the start, but Gus pulls away a lot. He says he's not the relationship type and doesn't believe in happy endings. January doesn't want to fall for him, but they start spending more and more time together. Gus slowly starts to open up, but he still keeps a lot of things private. Both are dealing with their own issues throughout the book. I loved their relationship though, even when it was just friendship. I wish there was a bit more steaminess, but overall, I enjoyed this one.
I gave this book 4 1/2 stars rounded up to 5 on Goodreads.
Have you read this?  Is it on your TBR?