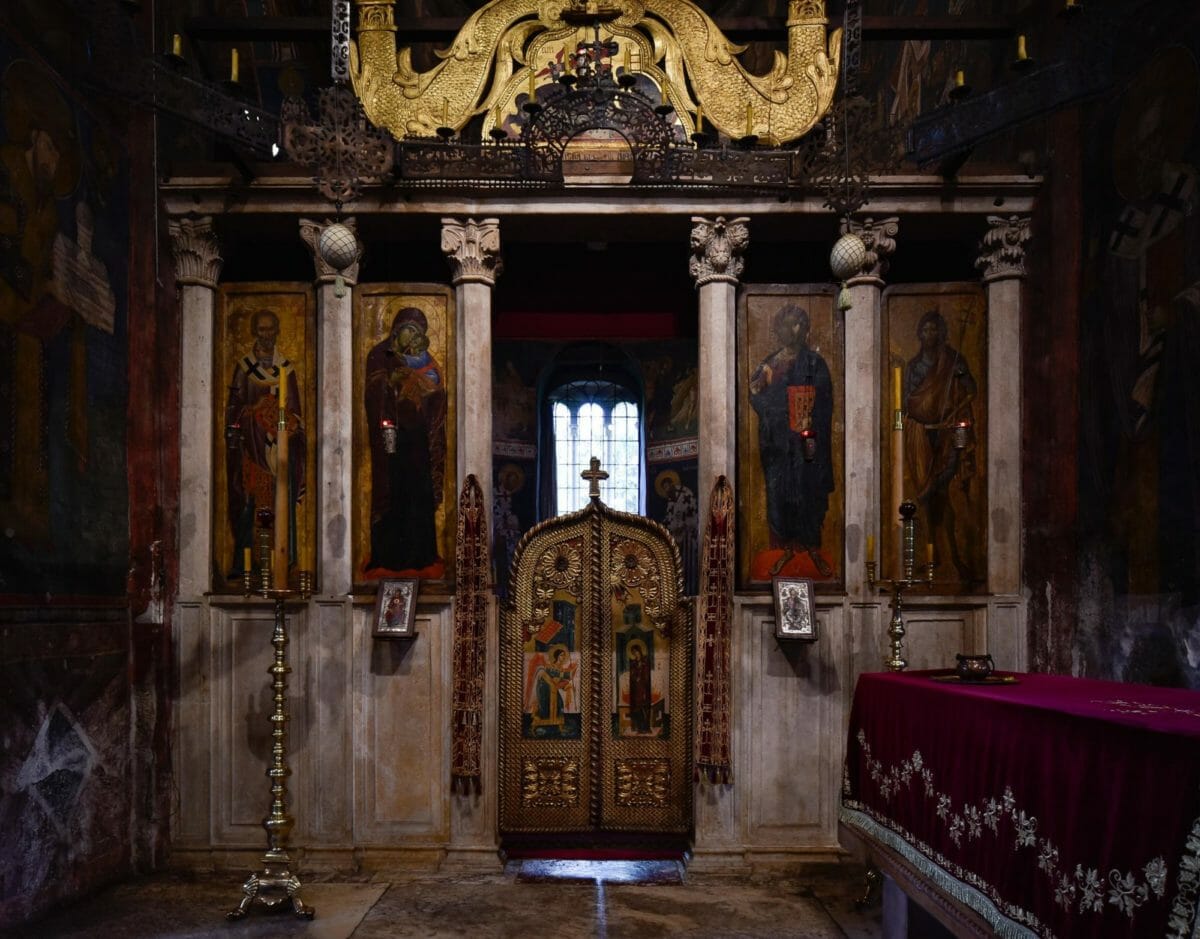 The iconostases of Dečani Monastery are of such overwhelming interest that they warrant their own post in my photojournalism series. Dečani was built in 1327-1331. Among the hundreds of monasteries built by the medieval kingdom of Serbia, it was the tallest and grandest. Today, it is also, miraculously, the best preserved, with an extraordinary collection of artworks and treasures.
The central iconostasis is of the templon-screen type – it consists of stone columns and a stone lintel. This type of altar screen emerged in early Christian times and remained ubiquitous for about 1000 years. It gradually transformed into an iconostasis in the Middle Ages when icons were placed atop the lintel, and then between the columns. By the 15th century, the icons had become the primary focus of the screen, and the stone structure had been rendered obsolete. Iconostases were then built completely of wood.
Dečani's 14th-century templon screen gives us a unique glimpse into the transitional screens of the high Middle Ages. It is the only templon screen in the world that remains fully intact, containing even its original 14th-century icons. To see icons of this age and quality not in a museum, but in their original position for which they were made, in daily liturgical use, is truly a wonder.
To the left and right of the central templon are two tall and ornate wooden iconostases – for the side chapels of Saint Demetrius on the left and Saint Nicholas on the right. These are among the most impressive works of the Balkan late-Baroque – a folk tradition of beautiful craftsmanship that flourished in the late Ottoman period. The screens were carved by Trajko Rekalija, and the icons painted by Simeon and Aleksije Lazović of Bijelo Polje. They were completed in 1818.
These wonderful screens were crafted five centuries after the church was built. Nevertheless, it is hard to picture Dečani without them. Their rich carved texture and shimmering polychrome offer the perfect complement to the ponderous stillness of the ancient stone walls and blue-toned frescoes. When visiting Dečani, I was struck by the the views of these iconostases between the stone pillars. It seemed the perfect aesthetic climax – long vistas between massive columns and dimly visible ancient frescoes – and beyond, Paradise! A wall of sculpted gold and fiery saints catching sunbeams from the side-aisle windows. It was a like a distant glimpse of the walls of Heaven and the pearly gates.
This post is part of a series. Previous posts:
Iconostases in Balkan Churches – Part 1: Serbia
If you enjoyed this article, please use the PayPal button below to donate to support the work of the Orthodox Arts Journal. The costs to maintain the website are considerable.