Revd Dr Boniface Carroll delivered an exciting lecture on the theme of 'Meditations on the Incarnation: Humanity, Society, and the Church' (30 June 2023). The took place physically in Cambridge, at Wesley House though participants were also present via Zoom.
The recording of the event is available here: https://youtu.be/lWVSST4O91o
This Lecture Day had a special significance for the Institute, as it also marked the inauguration of the IOCS Centre for Anthropology and Ethnography of Orthodox Christianity (CAEO). The Centre is a new initiative of the Institute in partnership with the Department of Anthropology, University College London, where Revd Dr Boniface Carroll is a Principal Research Fellow in Anthropology. More details on the Centre here.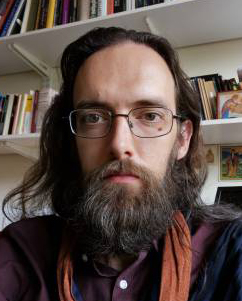 Revd Dr Boniface (Timothy) Carroll is a priest of the Antiochian Orthodox Church in the UK. He is a Visiting Professor of IOCS and Principal Research Fellow in Anthropology at University College London. His work focuses on the lived practices of Orthodox Christianity, the material culture of the Church, and the interplay between theology, ethics, and the bodily and physical aspects of human experience. He is currently the Principal Investigator of a UKRI-funded project on 'Orthodox Christian Material Ecology and the Sociopolitics of Religion', based at UCL Anthropology, and the Founding Director of the Centre for Anthropology and Ethnography of Orthodoxy. His is the author of Orthodox Christian Material Culture: Of People and Things in the Making of Heaven (2018) and A Return to the Object: Alfred Gell, Art and Social Theory (with S.Kuechler 2020). He has published widely on art and aesthetics, the relation of theology to ethnography, and the role of material within the liturgical and ethical practices of Orthodox Christianity.