"Human dignity is the value we have had since we were a tiny little thing in our mother's womb." – Kindergarten student from Venezuela

The World Youth Alliance (WYA) is on a mission to instill the values of human dignity in young minds across the globe through its Human Dignity Curriculum (HDC). This curriculum, designed to teach the youngest members of society the inviolable worth of every individual, was most recently taught in classrooms in Vietnam, Paraguay, and Venezuela, touching the lives of young learners in profound ways.
Rejean Marie Darroca, Director of Operations for WYA Asia Pacific, brought the HDC to first graders at Nha Tho Thoi Hoa's (a local parish in Vietnam) summer school program. Rejean addressed students, parents, guardians, and volunteer youth teachers at the program's opening ceremony. She enthusiastically shared, "The HDC is a program that teaches the youngest members of our society their inviolable worth as humans and our relationship with the world. The knowledge you will gain from this program will be your gateway to create better decisions for yourselves with respect to others, and I look forward to guiding you to become excellent heroes of the world."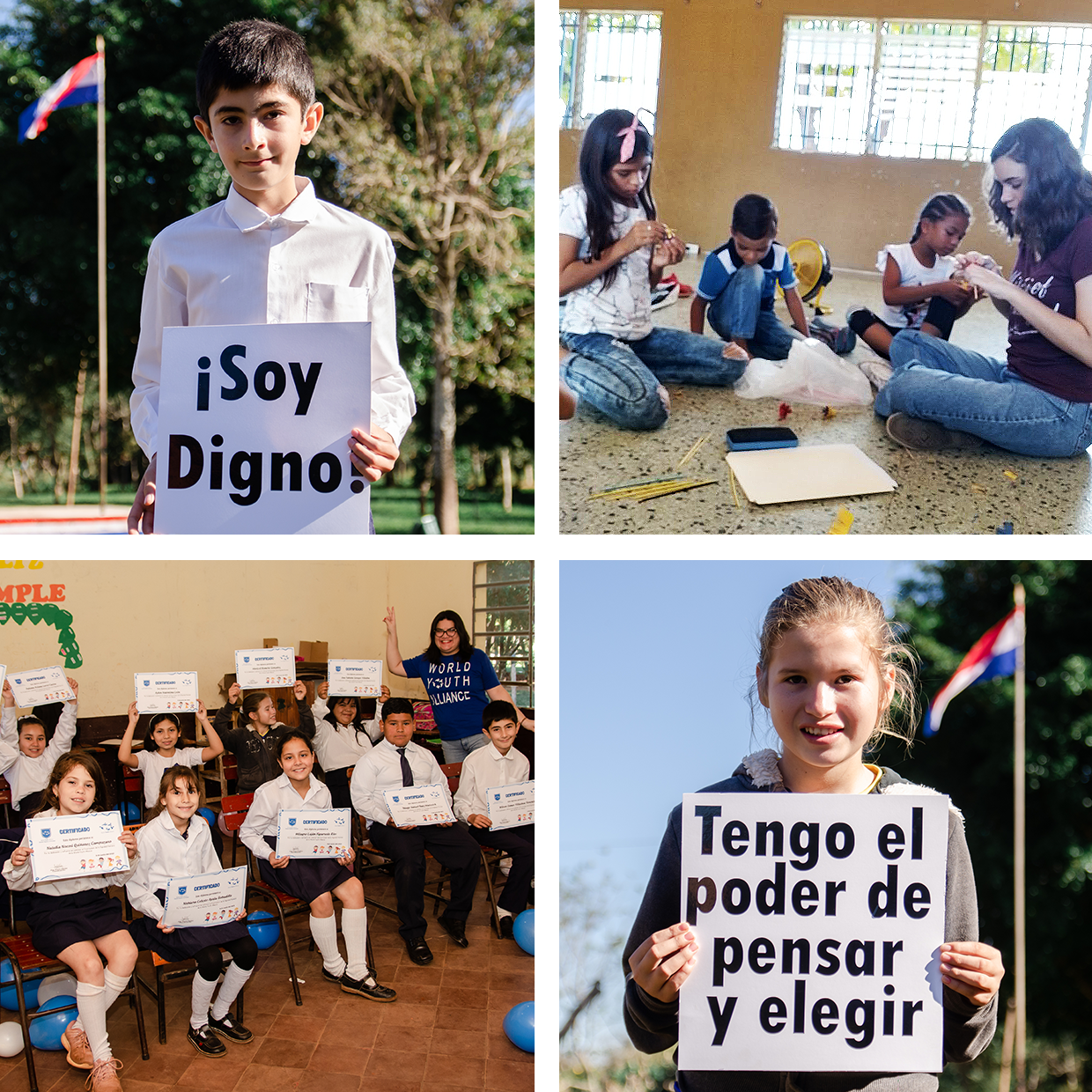 In a rural public school, at the Defensores del Chaco School of Paraguay, the impact of HDC has not gone unnoticed, especially among the parents of the sixth graders taking part: "parents came by the closing day to thank us for the HDC classes, saying it was a beautiful course with a human approach," shared Rocio Valdez, the WYA Latin America staff responsible for coordinating the HDC implementation. In Venezuela, at the Centro de Educación para la Acción Integral Social foundation, Maria Laura Hernandez, WYA Latin America staff, brought the HDC to kindergarteners and second graders. "Several students exhibited significant positive behavioral changes and one teacher noticed that some children became more cooperative during classes throughout the program."
WYA's dedication to extending the reach of the HDC continues, and wouldn't be possible without with the support of teachers like Levis Sirikwa, an HDC teacher from Kenya who volunteered at the Nha Tho Thoi Hoa summer school: "To me, the HDC training has broken down the complicated aspects of human dignity into simple words, that even children who are still learning English are able to relate to, embrace, and apply in their own lives." 
Want to bring the HDC to your school or organization? Visit our HDC website to learn more.
---

Published September 25, 2023 by WYA Staff