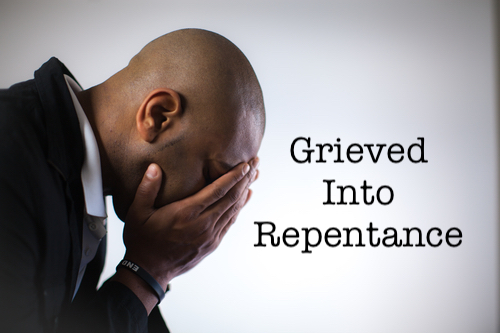 Queen Elizabeth once said, "Grief is the price we pay for love." And that is true, in part, but not the whole picture. In fact, I'm convinced in our modern world of therapy and "positive thinking" we run the risk of falling into the false notion that we should never "feel" bad or sad. And that mistaken way of thinking always leads to disaster as we never learn how to grieve well. We don't avoid grief; that's not possible. We just do it so badly that it harms us instead of leading us to joy, as good grief always does!
The whole idea of "Godly sorrow" leading to repentance strikes we moderns as foreign and wrong. We have been conditioned by our spirit of the age to think of grief as something that should be hidden or denied, especially if it is feeling grief over how we are living. The whole of modern, secular, thinking is the "celebrate" your behaviors, no matter how destructive they are or reality-denying they are. And the resulting mental illness that flows from never admitting you are in need of repentance. But learning the power of Godly sorrow or grief will allow you to actually be healed and not forever stuck in hiding from your spiritual wounds.
Look at our Lesson today in 2 Corinthians 7:1-10:
Brethren, let us cleanse ourselves from every defilement of body and spirit, and make holiness perfect in the fear of God.

Open your hearts to us; we have wronged no one, we have corrupted no one, we have taken advantage of no one. I do not say this to condemn you, for I said before that you are in our hearts, to die together and to live together. I have great confidence in you; I have great pride in you; I am filled with comfort. With all our affliction, I am overjoyed.

For even when we came into Macedonia, our bodies had no rest but we were afflicted at every turn –fighting without and fear within. But God, who comforts the downcast, comforted us by the coming of Titus, and not only by his coming but also by the comfort with which he was comforted in you, as he told us of your longing, your mourning, your zeal for me, so that I rejoiced still more. For even if I made you sorry with my letter, I do not regret it (though I did regret it), for I see that that letter grieved you, though only for a while. As it is, I rejoice, not because you were grieved, but because you were grieved into repenting; for you felt a godly grief, so that you suffered no loss through us. For godly grief produces a repentance that leads to salvation and brings no regret, but worldly grief produces death.
Paul tries to help these Corinthians to see there are two types of grief: Good Grief – the grief that leads to real repentance; and Bad Grief – the grief that makes me more insular, isolated, and trapped in the death spiral of my own selfishness. The key difference is in how we accept correction! And that depends on who we truly love – God or ourselves! Paul sees the Corinthians grieving over his correction of them and grief always implies a loss, but sometimes loss, while painful, is necessary!
The Good Grief flowed from the folks who heard the counsel of St. Paul and repented of their errors. The Bad Grief was revealed in the hearts and actions of those too stubborn to repent. St. Paul says that Bad Grief leads to death.
But that's the way of any correction we humans face. If we choose to hear the correction of our thoughts, actions, and attitudes as "medicine" to heal us then we wisely embrace the correction and are spiritually healed. We are humble enough to entertain the thought that we just may be wrong and in need of repentance. That attitude of humility sets us free to actually deal with the spiritual illnesses that handicap our everyday lives, wound our relationships, cloud our judgment, and retard our growth! Good Grief leads to "metania" and that is much more than mere sorrow for wrong actions or words. True "metania" (repentance) means taking to heart and mind wisdom that leads to a corrected pattern of life! To repent is to face grief not as a shaming from God but the "pain" that wakes us up to our wounds and invites us to run to Christ for healing. It truly is Good Grief!
The other option St. Paul warns us about is "worldly grief" and that's the grief that can't see past the effects the loss has on a person. I'm unhappy because of this loss or this correction and that makes me sad, so things must be bad! It is a self-focused grief that leads to the slavery of selfishness and that turned inward attitude leads to a death of sorts, the death of the possibility of joy or healing. This kind of grief with no hope only leads us to either be swallowed by shame to the point it actually affects how we see God or to denial and delusion about our spiritual illnesses and an insistence that our wounds are actually "I was born this way!" Either way, this bad grief distorts our view of God and ourselves!
Our holy father Kosmas, was a monk on Mt. Athose in the 18th century. He started his schooling at the Vatopedi monastery and then moved to the Philotheou monastery. From there, he received a blessing to go to Constantinople for training in rhetoric. After his training, he went and preached in Northern Greece and Albania. He was so very much needed because the Christians of that time and place were so very poorly educated because of the oppression of the Ottoman Empire that ruled over them. The Ottomans discouraged the Christians from studying and maturing in their faith because they wanted the Christian population weak. St. Kosmas greatly helped the people by calling them to be true disciples of Jesus in more than mere cultural habits, but Christians indeed, and to use the great gift of the Orthodox Faith to allow this wisdom to make them truly wise and to truly love God. in 1776 he was arrested after a group of envious people lied about him and was sentenced to death by strangulation. His life and witness prove the power of repentance and "good grief" to lead us to a real change in our lives if only we will embrace this new life offered to us by Christ.
Today, do you know how to have "godly grief" or is your life stuck in a "worldly grief" that leaves your life paralyzed by pain? Good Grief will always lead to healing and wholeness and that is always the result of a lifestyle of repentance that isn't gripped by shame, but energized by love. Let the Faith teach you how to Grieve well and live a Normal Orthodox Life.
P.S. With odes let us acclaim the renowned Kosmas, who gloriously excelled among the choirs of the martyrs, priest, and ascetics, and let gather in praise of his memory; for he dispenses healing to them that have recourse to him with faith, since, as an equal of the Apostles, he has boldness before Christ.
Email Fr. Barnabas at email hidden; JavaScript is required

Related Articles