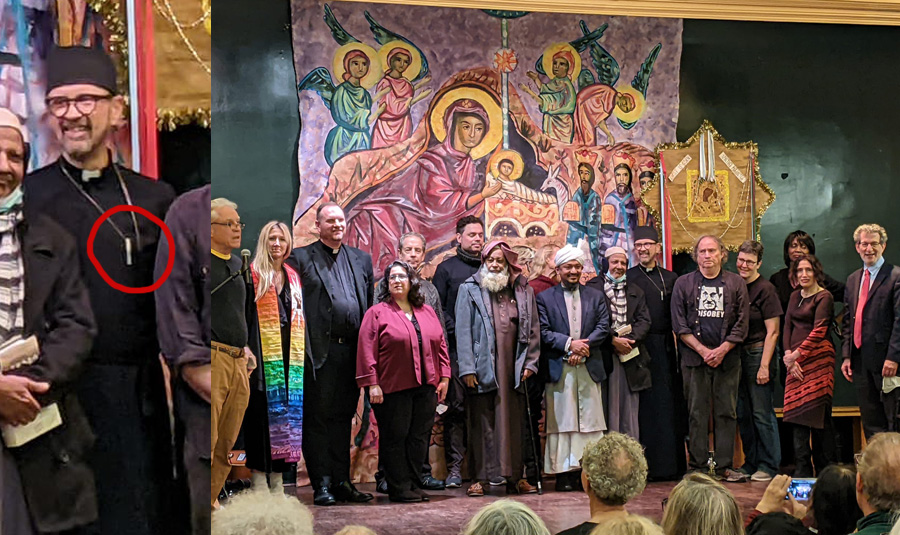 At the conclusion of the 14th annual gathering of Spiritual Sounds (2023), held at Fr. Christopher Calin's own Orthodox Cathedral of The Holy Virgin Protection, the interfaith celebrants took a group photo. Seeing Rev. Amanda Hambrick (woman minister) proudly wearing her rainbow LGBTQ+ stole is shocking enough. Even more disturbing is noticing that Fr. Calin is hiding his pectoral cross in his pocket. Apparently it's offensive for an Orthodox priest to display his cross when taking photos with non-Christian believers at his own church.
The group photo above, taken in the Orthodox Cathedral of The Holy Virgin Protection church hall, was also publicly shared on the church's facebook page with this notice: "The Ministers and Choir directors assembled for the 14th annual gathering of Spiritual Sounds, the brainchild of Anthony Donovan, seen here on the left of Rev. Amanda. A beautiful evening of music and solidarity – Cathedral of the Holy Virgin Protection."
This is not the only time Fr. Calin chose to hide or not wear his pectoral cross for these interfaith celebrations. In 2022 for the 13th Annual Spiritual Sounds gathering conducted via Zoom he recorded himself without a cross also. See the video below, (starting at 10:13) where Fr. Christopher Calin and Archdeacon Michael Suvak sing a couple of Orthodox hymns.
13th Annual Spiritual Sounds Gathering, 2022 via Zoom
https://youtu.be/EkxEADl1WIc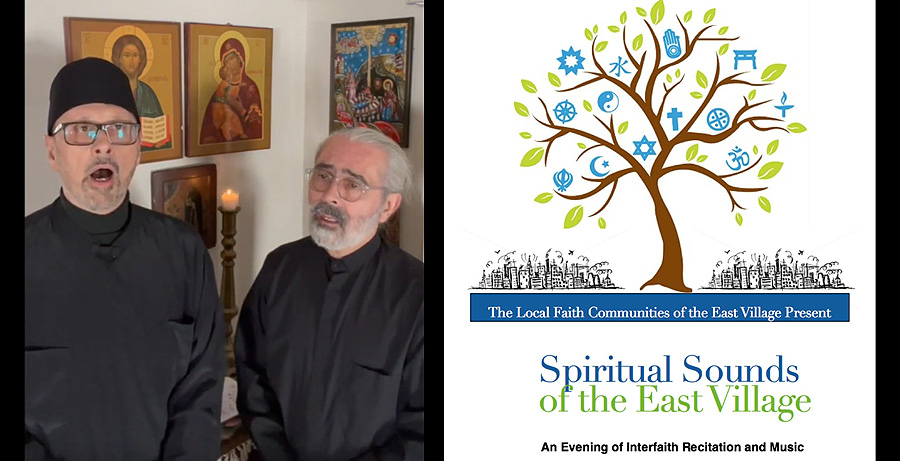 "For whosoever shall be ashamed of Me and My words, of him shall the Son of Man be ashamed when He shall come in His own glory, and in His Father's, and of the holy angels." (Luke 9:26)
"For Jews request a sign, and Greeks seek after wisdom; but we preach Christ crucified, to the Jews a stumbling block and to the Greeks foolishness, but to those who are called, both Jews and Greeks, Christ the power of God and the wisdom of God. Because the foolishness of God is wiser than men, and the weakness of God is stronger than men." (1 Corinthians 1:22-25)
Fr. Calin has been participating in these Spiritual Sounds interfaith celebrations for years. An article from 2016 explains why these were started and what goes on at these gatherings:
Countering ugly rhetoric with spiritual sounds
https://www.amny.com/news/countering-ugly-rhetoric-with-spiritual-sounds/
…
[Anthony] Donovan had an idea years ago that he shared with Reverend Christopher Calin of the Orthodox Cathedral of Holy Virgin Protection, at 59 E. Second St.: namely, an event where the neighborhood's diverse faith communities could gather and "get past their comfort zones" through a shared medium.
…
"I would walk around the neighborhood and walk by this church," Calin said. "I would walk by Middle Collegiate Church, the Sixth St. Synagogue or the mosque on 11th St. and have no means of identifying or having a connection with them. Now I know them. I love them."
…
There was plenty of traditional liturgical music, chants and Koranic recitations.

"We sing songs that celebrate the creation of life and how we celebrate our lives," said local resident Kim Kalesti, whose composition "For the Universe" was performed by the St. Marks choir.

The night's youngest performer was Ishaak, 11, of Madina Masjid, who recited a portion of the Koran that is merely a fragment of the 400 pages he's read and memorized over the past two years.
Official photo taken at 2023 Spiritual Sounds Interfaith Gathering with the names of all participants.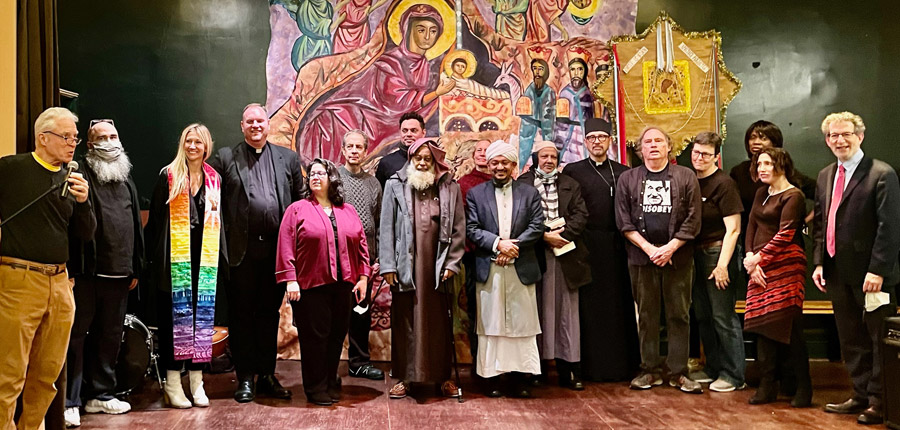 From left to right, Anthony Donovan, Faith Leaders and Music Directors for Spiritual Sounds 2023: John Del Cueto, Rev. Amanda Hambrick Ashcraft [wearing LGBTQ+ stole] of Middle Collegiate Church, Pastor Will Kroese of Trinity Lower Eastside Lutheran Church, Cantor Shayna Postman of Town and Village Synagogue, Muinuddin Charles Smith and Wes, Sharif Matthews of the Light of Guidance Sufi Center, Elder Yousuf of Medina Masjid, Kainat Sharifa Norton of Light of Guidance Sufi Center, Imam Sunnatur Rahman, Brother Khalil Bhai of the Medina Masjid, host Rt. Rev. Christopher Calin of the Orthodox Cathedral of the Holy Virgin Protection, Bud Courtney and Joanne Kennedy of the Catholic Worker, Jeannine Otis of St. Marks Church in the Bowery, Jennifer Cross of Orthodox Cathedral of the Most Holy Virgin Protection, Rabbi Laurence Sebert of Town and Village Synagogue.
—————————————————
HT: Monomakhos.