Can't Wait Wednesday/Waiting on Wednesday is hosted by Wishful Endings and was previously hosted by Breaking the Spine.   It was created to show off a future release that you are excited for.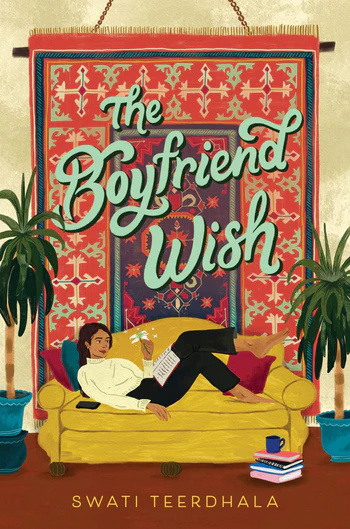 The Boyfriend Wish by Swati Teerdhala
A charming romantic comedy about a South Indian American teen girl who makes a wish upon a flower for her perfect boyfriend…and then a new boy moves in right next door. With love triangles, prank wars, and a sizzling sweet romance—this is perfect for fans of Sandhya Menon and Jenny Han.
Deepa's a hopeless romantic. And even though Deepa's checklist for the perfect boyfriend is a mile long, her mom and dad's fairy-tale love story makes her feel like romantic success ought to be a family trait. It's why when her grandmother gives her a jasmine flower with the promise that it will fulfill her heart's greatest desire, and then a new boy moves in across the street, Deepa knows—he must be her wish come true.
Rohit checks off every box on Deepa's timelessly handsome, a thoughtful listener, and a romantic who knows his flowers. Deepa's next-door neighbor (and constant tormentor) Vik also surprisingly approves, though she knows it shouldn't be a mark against Rohit.
Is it luck or is it magic? Deepa doesn't want to take chances, so when her grandmother warns her that the wish is only permanent if she seals it with a kiss, she knows she needs to move quickly. Rohit is the right boy in every way, so then why does Deepa not feel like he might not be the right choice?
Expected publication February 13, 2024
Have you read this yet?  Is it on your TBR?