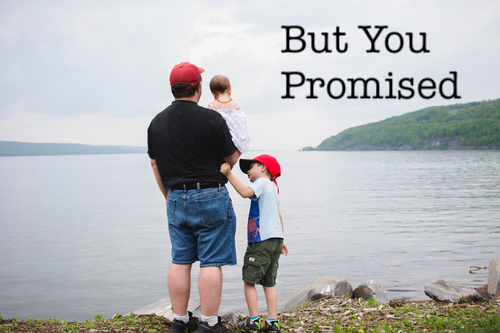 As a dad, I hate hearing this from my children "But you promised." It is both frustrating and, sometimes, embarrassing because I had, in fact, promised and hadn't followed through!
As with most realities in life, it's complicated. Yes, there are times I've said "I promise" and was just saying it to get the kids happy or even put them off. But that mistake builds into my children the terrible notion that dad can't be trusted with his word. Not a very good model for parenting.
But there are times in life when circumstances get in the way of our promises. Then it's time to be honest and to offer an explanation in hopes that they will understand. Regardless, dealing with real life in a truthful and open manner is always the best way to help those around us see a model of honesty and maturity. My kids need to see that dad isn't perfect but he is honest with them. They must be shaped by the Faith that insists they deal with reality and not the emotional fiction of what they are afraid of or what they desire. The only way to do that is to be honest, trustworthy, and consistent!
Look at our lesson today in 2 Corinthians 1:12-20:
Brethren, our boast is this, the testimony of our conscience that we have behaved in the world, and still more toward you, with holiness and godly sincerity, not by earthly wisdom but by the grace of God. For we write you nothing but what you can read and understand; I hope you will understand fully, as you have understood in part, that you can be proud of us as we can be of you, on the day of the Lord Jesus.

Because I was sure of this, I wanted to come to you first, so that you might have a double favor; I wanted to visit you on my way to Macedonia, and to come back to you from Macedonia and have you send me on my way to Judea. Was I vacillating when I wanted to do this? Do I make my plans like a worldly man, ready to say Yes and No at once? For the Son of God, Jesus Christ, whom we preached among you, Silvanus and Timothy and I, was not Yes and No; but in him it is always Yes. For all the promises of God find their Yes in him. That is why we utter the Amen through him, to the glory of God.
Our Apostle Paul is continuing his wisdom to his Corinthian community and he's setting up his wisdom to get to the point of the letter in the first place and that is to quiet down some criticism of him personally and to deal with some pastoral problems there involving a member of the parish that had been disciplined but had learned his lesson. You see, there were some folks complaining about their pastor (I bet that sounds familiar!) and how often Paul had promised to come to see them but circumstances prevented him. This had some folks claiming that Paul wasn't being honest with them and that started the criticism coming!
Notice that Paul mixes the sublime with the practical. He deals with the criticism head-on and he spells it out for them in clear language. He insists that his communication style is plain on purpose so that there isn't any misunderstanding. But he also "sweetens" his words with a loving attitude toward even those who've complained about him! He wants to assure these folks that a true follower of Jesus Christ means what he says when he says it. His "yes" means "yes" and his "no" means "no." There isn't any attempt to be dishonest in speech or behavior. In other words, Paul would have made a lousy politician!
And he ends this defense of his honesty by appealing to the Person of Jesus Christ. This is the consistent message preached by all the leaders there at Corinth. God isn't a "Yes" means "No" God. When God says "Yes" He means "Yes." And Paul reaches way out into the depths of sublime theology when he says that "all the promises of God find their "yes" in Him." All God has promised humanity God intends to fulfill in you and me. He's not going to change His mind about His Promises BECAUSE of Who He is! He is "Yes" and we respond with "Amen." We embrace His "Yes" for us by adding our willful embrace of His promises to us!
St. Niphonus was the Patriarch of Constantinople during a very difficult time for the Christians of the Ottoman Empire. In fact, he was Patriarch twice, once from 1486 to 1488, and then again from 1497 to 1498. He was asked to serve a third time but refused due to the turmoil of the day. St. Niphonus was a monk who sought to maintain his integrity in the face of competing forces all using politics to gain favor with those in power, a common story. After trying to bring different competing factions together in attempting to reorganize the patriarchate and confronting corrupt practices of the clergy, he was deposed twice! But his reputation and his holiness were obvious to all and they asked him to come back a third time. He refused and went to live on Mount Athos in a monastic community there. When he arrived, he didn't tell anyone he was the former Patriarch, so the brothers of the monastery assigned him to take care of the monastery animals, which he did without complaint. But, again, his holiness and simple grace eventually were noticed by the monks and when they learned he was the former Patriarch, they flocked to him for his advice and counsel. His virtue was so recognized by all that he was declared a saint immediately after his death at the monastery. His integrity and his honesty live on as a testimony of a man transformed by God's love and grace.
Today, are you brokenhearted by a society where it seems a man's word isn't nearly as dependable as it used to be? Do you see the spiritual cancer of saying one thing and doing another? Perhaps then it's time to stop looking around you for consistency and start looking up! Doing that will be the strongest source of consistent "Yes" you'll ever have and keep you Orthodox on Purpose!
P.S. Being exalted in the ways of humility, you have illumined the entire Church; for having been glorified on Athos with ascetic seeds, you received the name "Adornment of Patriarchs." O glorious Niphonus, fill with divine graces those who magnify you with faith and longing.
Click here to support the daily devotionals

Related Articles