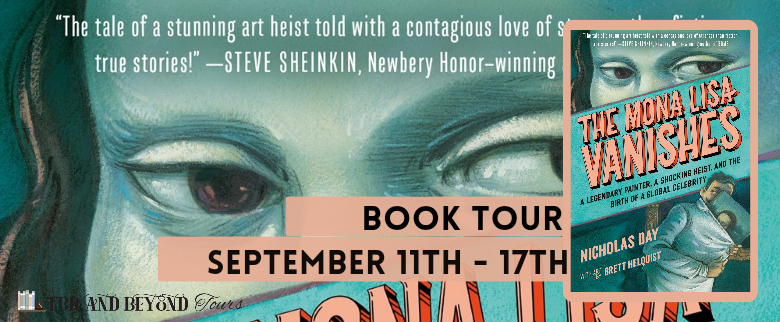 Welcome to my stop on the blog tour for The Mona Lisa Vanishes by Nicholas Day.  This tour is being hosted by TBR and Beyond Tours.
The Mona Lisa Vanishes by Nicholas Day
Genre: Middle Grade Non-Fiction
Publishing Date: September 5, 2023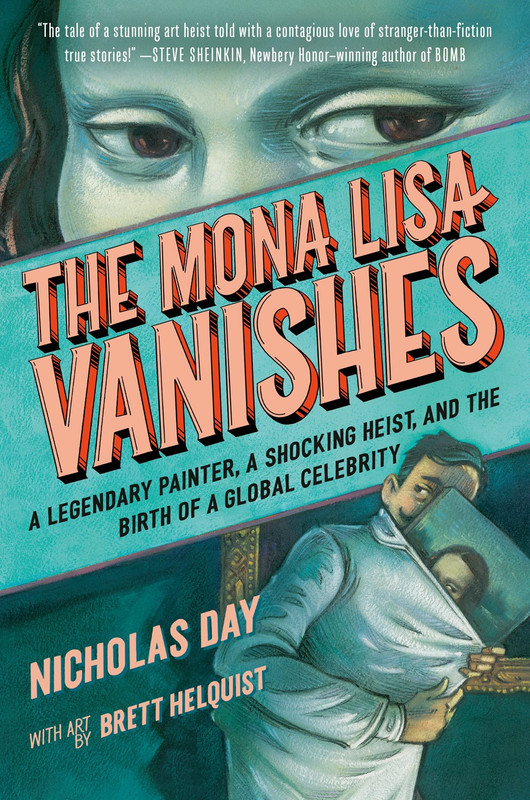 A propulsive work of narrative nonfiction about how the Mona Lisa was stolen from the Louvre, how the robbery made the portrait the most famous artwork in the world—and how the painting by Leonardo da Vinci should never have existed at all.
On a hot August day in Paris, just over a century ago, a desperate guard burst into the office of the director of the Louvre and shouted, La Joconde, c'est partie ! The Mona Lisa, she's gone!
No one knew who was behind the heist. Was it an international gang of thieves? Was it an art-hungry American millionaire? Was it the young Spanish painter Pablo Picasso, who was about to remake the very art of painting?
Travel back to an extraordinary period of revolutionary turn-of-the-century Paris. Walk its backstreets. Meet the infamous thieves—and detectives—of the era. And then slip back further in time and follow Leonardo da Vinci, painter of the Mona Lisa , through his dazzling, wondrously weird life. Discover the secret at the heart of the Mona Lisa —the most famous painting in the world should never have existed at all.
Here is a middle-grade nonfiction, with black-and-white illustrations by Brett Helquist throughout, written at the pace of a thriller, shot through with stories of crime and celebrity, genius and beauty.
Book Links:
Goodreads: https://www.goodreads.com/book/show/70917084 
Amazon: https://www.amazon.com/Mona-Lisa-Vanishes-Legendary-Celebrity/dp/0593643844 
Barnes & Noble: https://www.barnesandnoble.com/w/the-mona-lisa-vanishes-nicholas-day/1142853200  
IndieBound: https://bookshop.org/p/books/the-mona-lisa-vanishes-a-legendary-painter-a-shocking-heist-and-the-birth-of-a-global-celebrity-nicholas-day/19574317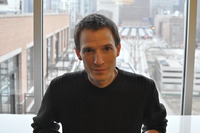 Nicholas Day is the author of The Mona Lisa Vanishes, a middle-grade book of narrative nonfiction about the theft of the Mona Lisa. For adults, he's the author of Baby Meets World, a work about the science and history of infancy, which Mary Roach called "a perfect book." He lives in Western Massachusetts with his family.
Author Links:
Website: https://www.bynicholasday.com/ 
Goodreads: https://www.goodreads.com/author/show/6565314
Follow The Tour:
TOUR SCHEDULE:
September 11th
The Book Dutchesses – Promotional Post
September 12th
The Daily Librarian – Review, Favorite Quotes
September 13th
One More Exclamation – Review
September 14th
Stuck in Fiction – Promotional Post
September 15th
What Cass Reads – Review
September 16th
Reading Stewardess – Review, Journal Spread
September 17th
Confessions of a YA Reader – Promotional Post
Instagram:
September 11th
ninebookishlives – Promotional Post
rickys_radical_reads – Review
September 12th
ablueboxfullofbooks – Creative Post: Little Free Library Drop, TikTok
kathreadsall – Review
thedailylibrarian – Content Creator's Choice
September 13th
bookdemonio – Promotional Post
onemoreexclamation – Content Creator's Choice
September 14th
acourtofspinesnpages – Review
artxsouls – Review, Mood Board
September 15th
writingrosereads – Promotional Post
whatcassreads – Content Creator's Choice
September 16th
froggyreadteach – Creative Post: Little Free Library Drop
quirkylitlover – Promotional Post
skygoddess1 – Content Creator's Choice
September 17th
tbrandbeyond – Promotional Post
shygirlediting – 15 Reactions While Reading The Mona Lisa Vanishes