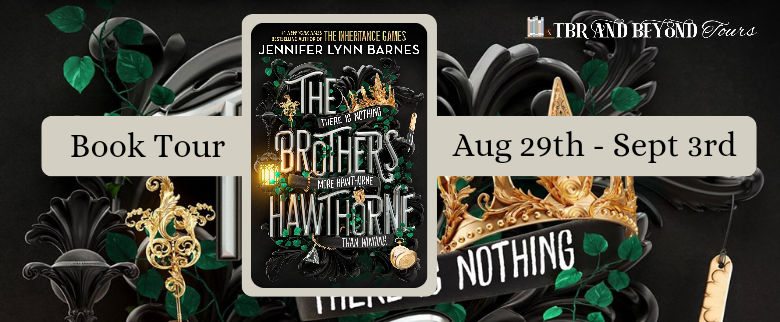 Welcome to my stop on the blog tour for The Brothers Hawthorne by Jennifer Lynn Barnes.  This tour is being hosted by TBR and Beyond Tours.
The Brothers Hawthorne (The Inheritance Games #4)  by Jennifer Lynn Barnes
Genre: Young Adult Mystery
Publishing Date: August 29, 2023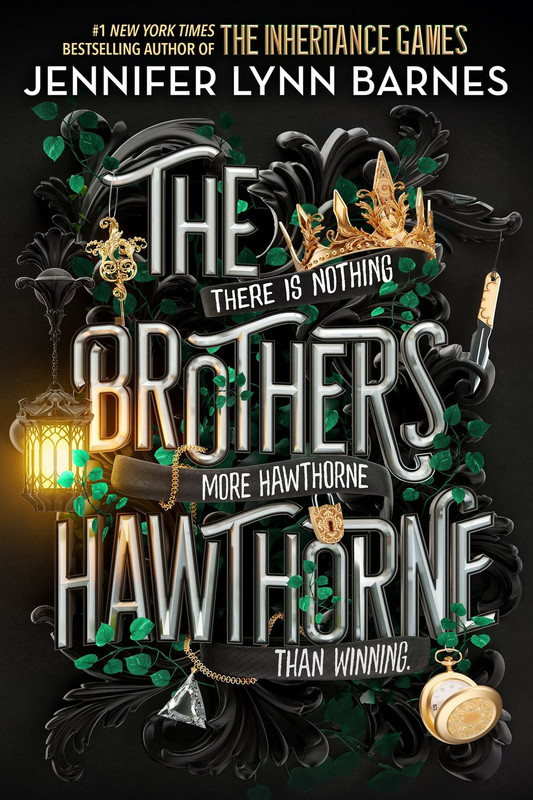 Four brothers. Two missions. One explosive read. Jennifer Lynn Barnes returns to the world of her #1 bestselling Inheritance Games trilogy, and the stakes have never been higher.  
 
Grayson Hawthorne was raised as the heir apparent to his billionaire grandfather, taught from the cradle to put family first. Now the great Tobias Hawthorne is dead and his family disinherited, but some lessons linger. When Grayson's half-sisters find themselves in trouble, he swoops in to do what he does best: take care of the problem—efficiently, effectively, mercilessly. And without getting bogged down in emotional entanglements.
 
Jameson Hawthorne is a risk-taker, a sensation-seeker, a player of games. When his mysterious father appears and asks for a favor, Jameson can't resist the challenge. Now he must infiltrate London's most exclusive underground gambling club, which caters to the rich, the powerful, and the aristocratic, and win an impossible game of greatest stakes. Luckily, Jameson Hawthorne lives for impossible.
 
Drawn into twisted games on opposite sides of the globe, Grayson and Jameson—with the help of their brothers and the girl who inherited their grandfather's fortune—must dig deep to decide who they want to be and what each of them will sacrifice to win.
Book Links:
Goodreads: https://www.goodreads.com/book/show/62804258 
Amazon: https://www.amazon.com/Brothers-Hawthorne-Inheritance-Games/dp/0316480770/ 
Barnes & Noble: https://www.barnesandnoble.com/w/the-brothers-hawthorne-jennifer-lynn-barnes/1142336901 
IndieBound: https://bookshop.org/p/books/the-brothers-hawthorne/18946056 
The Brothers Hawthorne is a pretty long book, but it goes quickly. It was definitely one you don't want to put down.
This is a book 4, so there are spoilers from the previous books below.
The book is told by both Grayson and Jameson. The stories are both different, but there are times when all the brothers are together. There are also some chapters from the past with them growing up.
Grayson heads off to Phoenix. He has two sisters there and one got arrested. As Grayson learns more about his father, he realizes that he needs to get involved to make sure no one finds out that he's dead. He wants to protect Avery and make sure no one looks into it more. But the FBI is investigating financial crimes and a bit about his disappearance. Grayson is determined to keep his identity a secret and not care about Gigi and Savannah. But Gigi is pretty much impossible to ignore and Savannah is very similar to Grayson. Even their mother is someone Grayson starts to care about. He gets calls from someone is his recent past and it looks like that storyline will continue in the next book.
Jameson is still looking for thrills. He's keeping one big secret from Avery, but otherwise they do everything together. Jameson meets his father who tells him about a secret game that he needs to play for him. He promises him a big prize that he can't resist. Avery and Jameson have to get noticed and get entry into the game. There are only a small amount of players and it's almost harder to get in than it is to win. But there are betrayals that happen. The game does help Jameson with his almost boredom with the missing challenges from his grandfather. Avery comes up with something at the end that might help long term. I'm hoping that will be a big part of the next book too.
I gave this book 4 1/2 stars rounded up to 5 on Goodreads.
Thank you to the publisher for sending me a finished copy for review.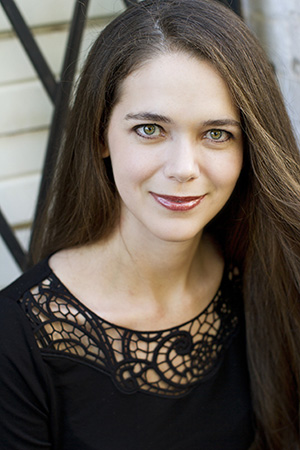 Jennifer Lynn Barnes (who mostly goes by Jen) is the author of more than a dozen critically acclaimed young adult novels. She has advanced degrees in psychology, psychiatry, and cognitive science, including graduate degrees from Cambridge University, where she was a Fulbright Scholar, and Yale University, where she received her Ph.D. in 2012. Jen wrote her first published novel when she was nineteen-years-old and sold her first five books while still in college. In addition to writing YA novels, Jen has also written original pilot scripts for television networks like USA and MTV, and she is one of the world's leading experts on the psychology of fandom and the cognitive science of fiction and the imagination more broadly. Jen is an Associate Professor at the University of Oklahoma, where she holds a dual appointment in Psychology and Professional Writing.
Author Links:
Website: https://www.jenniferlynnbarnes.com/ 
Twitter: https://twitter.com/jenlynnbarnes 
Instagram: https://www.instagram.com/authorjenlynnbarnes/ 
Goodreads: https://www.goodreads.com/author/show/164187
Follow The Tour:
TOUR SCHEDULE:
August 29th
pluvioreads – Review, TikTok
Abigail's Lost in a Book – Review
August 30th
Confessions of a YA Reader – Review
Jen Jen Reviews – Review
August 31st
The Book View – Review, Mood Board
Balancing Books and Beauties – Promotional Post, TikTok
September 1st
Book Lover Book Reviews – Promotional Post
Kait Plus Books – Review, Journal Spread
September 2nd
thindbooks blog – Review
My Bookish Ways – Review, Favorite Quotes
September 3rd
The Book Review Crew – Review, Favorite Quotes
Instagram:
August 29th
neverknotreading – Promotional Post
karendeeandabc – Review
starryworld_ – Review, Favorite Quotes
pluvioreads – Content Creator's Choice
abigailslostinabook – Content Creator's Choice
August 30th
planwithemm – Reivew, Journal Spread
whatkarinareads – Promotional Post
thesleepybookworm – Reivew
jenjenreviews – Content Creator's Choice
August 31st
writingrosereads – Promotional Post
whatageminireads – Promotional Post
onemused – Review
acourtofspinesnpages – Review, TikTok
balancing_books_and_beauties – Content Creator's Choice
thebookviewblog – Content Creator's Choice
September 1st
jaime_of_gryffindor – Review
temmathomas – Review, Playlist
gcreads04 – Promotional Post
bookloversbookreviews – Content Creator's Choice
September 2nd
titaniumtammyreads – Review
stacialovestoread – Promotional Post
thindbooks – Content Creator's Choice
my.bookish.ways – Content Creator's Choice
September 3rd
agathafeelingg.reads – Review
kerasalwaysreading – Review
dreaminginpages – Review
laurensbookvibes – Review
reading.late.into.the.night – Content Creator's Choice