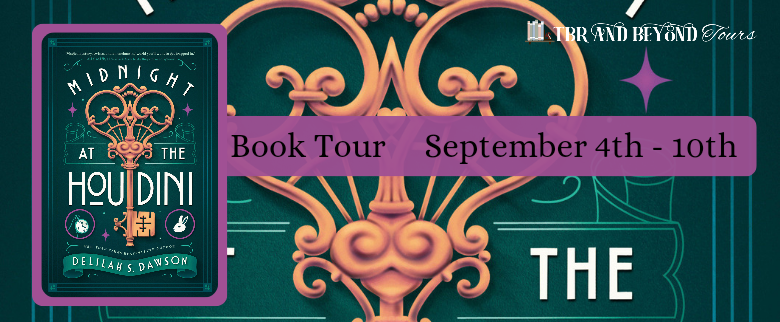 Welcome to my stop on the blog tour for Midnight at the Houdini by Delilah S. Dawson.  This tour is being hosted by TBR and Beyond Tours.
Midnight at the Houdini by Delilah S. Dawson
Genre: Young Adult Fantasy
Publishing Date: September 5, 2023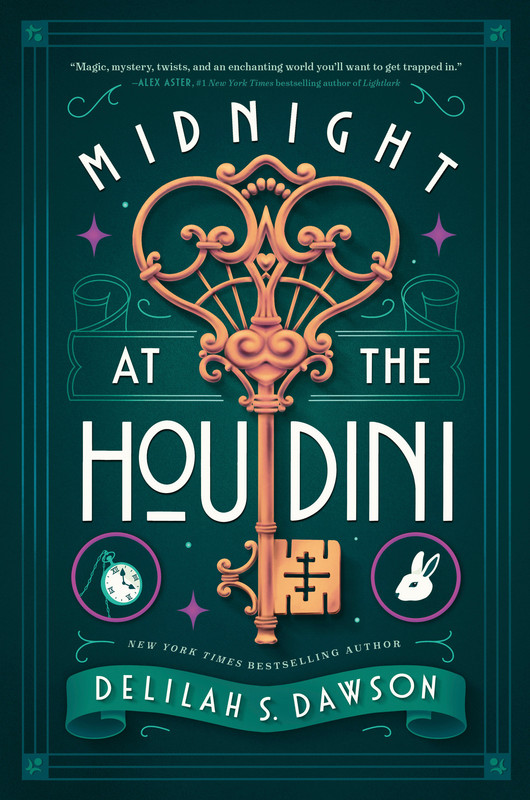 A girl discovers a surreal hotel where no one ever leaves. When the clock strikes midnight she'll be trapped there forever unless she's able to break free from magic that in turn breaks all her rules. Perfect for fans of Caraval and The Starless Sea!
The night is perfect and glorious and sparkling, too beautiful to be real. Like magic.
Anna may have grown up in glitzy Las Vegas, but she's determined that no one will ever call her shallow. While her older sister Emily is the star of the family, Anna is the diligent stage manager, making sure that both their lives go perfectly to plan. But when Emily reveals a startling betrayal, Anna flees in the middle of a raging storm and takes shelter in a boutique establishment she's never seen before: The Houdini.  
Inside, Anna discovers a magic hotel . . . and a magical boy. Earnest, curious Max has lived his entire life inside the Houdini. Over the course of one surreal evening, he becomes Anna's guide to the curious building. For the first time in her life, Anna is center stage, in a place that anticipates her every desire, with a boy who only has eyes for her.  
But that's because the Houdini has no other guests. No one ever enters the Houdini . . . and no one ever leaves. When the clock strikes midnight, Anna will be trapped in the Houdini forever. If Anna's ever going to find out who she is on her own in the real world, she'll first have to make an impossible escape. But will she be able to do it if it means leaving Max behind?
Book Links:
Goodreads: https://www.goodreads.com/book/show/58424385 
Amazon: https://www.amazon.com/Midnight-at-Houdini-Delilah-Dawson/dp/059348679X/ 
Barnes & Noble: https://www.barnesandnoble.com/w/midnight-at-the-houdini-delilah-s-dawson/1142853174 
IndieBound: https://bookshop.org/p/books/midnight-at-the-houdini-delilah-s-dawson/19573720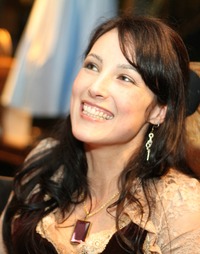 Delilah S. Dawson is the New York Times-bestselling author of Star Wars: Phasma, Black Spire: Galaxy's Edge, and The Perfect Weapon. With Kevin Hearne, she writes the Tales of Pell. As Lila Bowen, she writes the Shadow series, beginning with Wake of Vultures. Her other books include the Blud series, the Hit series, and Servants of the Storm.
She's written comics in the worlds of Marvel Action: Spider-Man, Lore's Wellington, Star Wars Adventures, Star Wars Forces of Destiny, The X-Files Case Files, Adventure Time, Rick and Morty, and her creator-owned comics include Star Pig, Ladycastle, and Sparrowhawk.
Author Links:
Website: https://www.whimsydark.com/ 
Twitter: https://twitter.com/DelilahSDawson 
Instagram: https://www.instagram.com/delilahsdawson/ 
Goodreads: https://www.goodreads.com/author/show/5135449 
Follow The Tour:
TOUR SCHEDULE
September 4th
Betwixt the Sheets – Review, Playlist
September 5th
The Momma Spot – Review
boozybook blog – Promotional Post
Rajiv's Reviews – Review
September 6th
Books Teacup and Reviews – Top 5 Reasons to Read Midnight at the Houdini
Bookish In Bed – 15 Reactions While Reading Midnight at the Houdini
September 7th
My Bookish Ways – Review
Avni Reads – Review
September 8th
Charli's Book Box – Promotional Post
Book-Keeping – Top 5 Reasons to Read Midnight at the Houdini
September 9th
Confessions of a YA Reader – Promotional Post
deepireads – Review, Mood Board
Absorbing Reads – Review, Playlist
September 10th
Boys' Mom Reads! – Review
itskooreviews – Review
Instagram
September 4th
ninebookishlives – Promotional Post
thisreadergirl – Top 5 Reasons to Read Midnight at the Houdini
rickys_radical_reads – Review
bookish_aly_cat – Review
get.outside.and.read – Promotional Post
theink.slinger – Content Creator's Choice
September 5th
chaibooksandthemoon – Top 5 Reasons to Read Midnight at the Houdini, Book Look
justa.gal.andherbooks – Promotional Post
silveryquills – Promotional Post
bookish__paws – Promotional Post
boozy.book – Content Creator's Choice
rajivsreviews – Content Creator's Choice
September 6th
bookdemonio – Promotional Post
daniereads87 – Review
acourtofspinesnpages – Review
bookish.by.trade – Top 5 Reasons to Read Midnight at the Houdini
kathreadsall – Review
books_teacup_reviews – Content Creator's Choice
September 7th
wild.legends – Review, Favorite Quotes
stargirls.magical.tale – Review
jaime_of_gryffindor – Review
brittyoreads – Review, Favorite Quotes
my.bookish.ways – Content Creator's Choice
avnireads – Content Creator's Choice
September 8th
tbrandbeyond – Promotional Post
thebookviewblog – Promotional Post
iambibliomane – Review
ladyroyreadsbooks – Review
atrailofpages – Review, Mood Board
hollymbryan – Content Creator's Choice
September 9th
cozybooktraveller – Review
nissa_the.bookworm – Review
artxsouls – Top 5 Reasons to Read Midnight at the Houdini
books.andsnacks – Review
deepireads – Content Creator's Choice
hey_its_meg_777 – Content Creator's Choice
September 10th
theenchantedshelf – Review
whatkarinareads – Review
belle.bookcorner – Promotional Post
starryworld_ – Review, Favorite Quotes
tequilamcknbrdreads – Review
itskooreviews – Content Creator's Choice