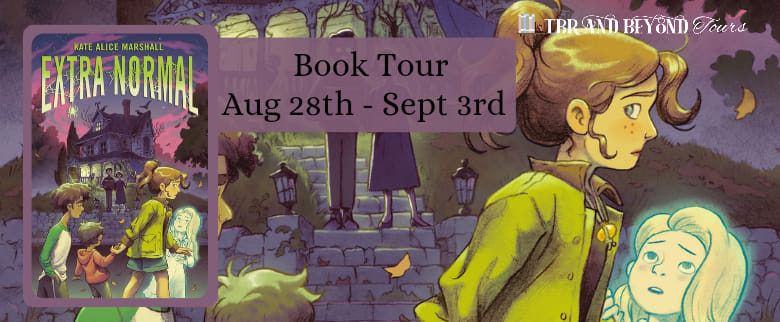 Welcome to my stop on the blog tour for Extra Normal by Kate Alice Marshall.  This tour is being hosted by TBR and Beyond Tours.
Extra Normal by Kate Alice Marshall
Genre: Middle Grade Horror
Publishing Date: August 29, 2023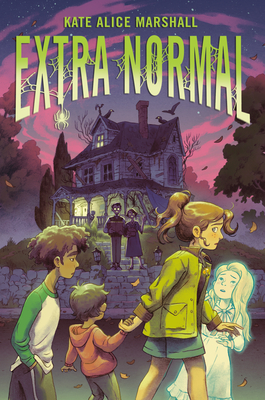 It's hard to fight the supernatural when you're naturally "un-super." This chilling middle grade is perfect for fans of Stranger Things and Scary Stories to Tell in the Dark…even if they don't have any special powers.

Charlie Greer is nothing special—at least not compared to her adopted siblings. Her younger sister is a ghost. Her brother Mateo is a werewolf. Gideon is the product of seriously sketchy experiments that gave him telekinetic powers. Even her parents work for the Division of Extranormal Investigations tracking down all things supernatural, alien, and otherwise unusual.

Charlie's mom says her superpower is maturity—which doesn't really count. But what Charlie lacks in powers she makes up for by keeping the household running. Now, with her parents off on their first vacation in years, it's up to her to take care of her siblings and make sure nothing disrupts the trip.

But then the new neighbors arrive. The Weavers are a nice, normal couple. Too nice and too normal. And for some reason, they don't seem to want Charlie to see inside their house. She's certain they're hiding something. Charlie has to uncover what's going on with the Weavers and stop their plans—without letting Mom and Dad find out anything is wrong.
Book Links:
Goodreads: https://www.goodreads.com/book/show/63933652 
Amazon: https://www.amazon.com/Extra-Normal-Kate-Alice-Marshall/dp/0593526457/ 
Barnes & Noble: https://www.barnesandnoble.com/w/extra-normal-kate-alice-marshall/1142778730 
IndieBound: https://bookshop.org/p/books/extra-normal-kate-alice-marshall/19684870 
This was really cute.
Charlie was so easy to love. She's normal in a family that is anything but. Charlie's parents work with supernatural investigations. Her siblings are special. But Charlie feels like she needs to make up for her normalness by taking care of everyone. Her parents are burning out and have been trying to take a vacation. Charlie is determined to let them have their rest. There are two agents baby sitting them. But the new neighbors across the street are not right. Charlie can't figure it out right away, but she and Opal are the only ones who can see things the way they actually are. There are these creepy spiders biting everyone and one of her neighbors just disappears. It's like no one even knows he's gone or that anything is wrong. Their minds aren't working normal. Charlie still doesn't want to bother her parents, so she enlists the help of her siblings to investigate and take care of the new neighbors.
I gave this book 5 stars. Thank you to the publisher for my finished copy.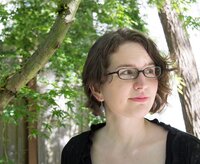 Kate Alice Marshall is the author of young adult and middle grade novels, including I AM STILL ALIVE, RULES FOR VANISHING, and THIRTEENS.
She lives outside of Seattle with her husband, two dogs named Vonnegut and Octavia, and two kids. They all conspire to keep her on her toes.
Author Links:
Website: https://katemarshallbooks.com/ 
Twitter: https://twitter.com/kmarshallarts 
Instagram: https://www.instagram.com/kmarshallarts/ 
Goodreads: https://www.goodreads.com/author/show/17294875.Kate_Alice_Marshall 
Follow The Tour:
TOUR SCHEDULE:
August 28th
The Bookcheshire Cat – Top 5 Reasons to Read Extra Normal
Laura's Bookish Life – Review
August 29th
Boys' Mom Reads! – Review
Kerri McBookNerd – Top 5 Reasons to Read Extra Normal
August 30th
The Book Dutchesses
My Bookish Ways – Review, Favorite Quotes
August 31st
The Nutty Bookworm Reads Alot – Review
DB's Guide to the Galaxy – Review
September 1st
One More Exclamation – Review
Charli's Book Box – Review
September 2nd
Confessions of a YA Reader – Review
Tara's Book Addiction – Promotional Post
September 3rd
Stuck in Fiction – Promotional Post
Reading Stewardess – Review, Journal Spread
Instagram:
August 28th
tbrandbeyond – Promotional Post
mythicmelancholy– Top 5 Reasons to Read Extra Normal
evergirl200 – Review
laurasbookishlife1 – Content Creator's Choice
August 29th
daniereads87 – Review
stargirls.magical.tale– Top 5 Reasons to Read Extra Normal
kerri_mcbooknerd – Content Creator's Choice
August 30th
ablueboxfullofbooks – Creative Post: Little Free Library Drop, TikTok
justa.gal.andherbooks – Review
booking.with.janelle – Review, Favorite Quotes
my.bookish.ways – Content Creator's Choice
August 31st
ninebookishlives – Promotional Post
dhirviepages – Review, Mood Board
enthuse_reader – Review
pagesforpaige – Review
September 1st
froggyreadteach – Review, Creative Post: Little Free Library Drop
acourtofspinesnpage – Review, TikTok
onemoreexclamation – Content Creator's Choice
charlisbookbox – Content Creator's Choice
September 2nd
nissa_the.bookworm – Review
rickys_radical_reads – Review
tarasbookaddiction – Content Creator's Choice
September 3rd
bookdemonio – Promotional Post
ariandher.books – Review
library_teacher – Review
skygoddess1 – Content Creator's Choice