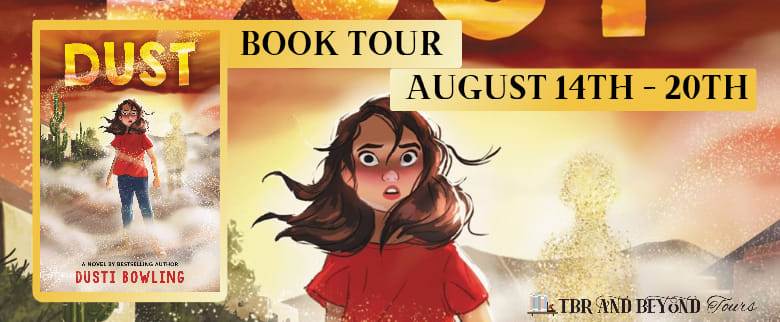 Welcome to my stop on the blog tour for Dust by Dusti Bowling.  This tour is being hosted by TBR and Beyond Tours.
Dust by Dusti Bowling
Genre: Middle Grade Realistic Fiction
Publishing Date: August 15, 2023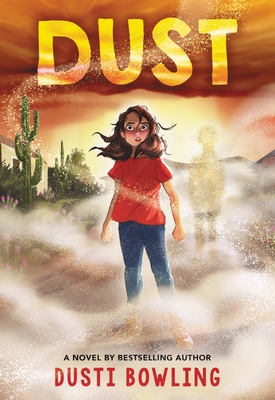 A girl who struggles to breathe befriends a boy who seems shrouded in dust, in this unmissable tour de force from bestselling and award-winning author Dusti Bowling.
After Avalyn nearly died from an asthma attack, her parents moved her to the clear, dry air of Clear Canyon City, Arizona. And for the last ten years, she's been able to breathe. That is, until Adam showed up.
Quiet and unkempt, Adam is an instant target for the bullies who have plagued Avalyn and her friends. As Avalyn gets to know him, she begins to suspect that the sudden, strange increase in dust storms around town are somehow connected to his emotions. She thinks his problems may be even worse at home, especially when massive black walls of dust start rolling in after the school day. Will she find a way to stand up for her new friend? Her life may just depend on it.
Dusti Bowling delivers a page-turning, powerful, and poignant novel of friendship, courage, and healing, perfect for readers of Kimberly Brubaker Bradley, Lynda Mullaly Hunt, and Erin Entrada Kelly.
Book Links:
Goodreads: https://www.goodreads.com/book/show/64000827 
Amazon: https://www.amazon.com/Dust-Dusti-Bowling/dp/0316414239/ 
Barnes & Noble: https://www.barnesandnoble.com/w/dust-dusti-bowling/1142799570 
IndieBound: https://bookshop.org/p/books/dust-dusti-bowling/19396461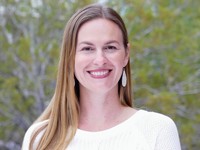 DUSTI BOWLING grew up in Scottsdale, Arizona, where, as her family will tell you, she always had her nose in a book. She released her first middle grade novel in 2017 and hasn't stopped writing since.
Dusti's books have won the Reading the West Award, the Sakura Medal, a Golden Kite Honor, the William Allen White Children's Book Award, and have been nominated for a Cybil and over thirty state awards. Her books are Junior Library Guild Gold Standard Selections and have been named best books of the year by the Chicago Public Library, Kirkus, Bank Street College of Education, A Mighty Girl, Shelf Awareness, and many more.
Dusti currently lives in Eagar, Arizona with her husband, three daughters, and a bunch of farm animals.
Author Links:
Website: https://www.dustibowling.com/ 
Twitter: https://twitter.com/DustiBowling 
Instagram: https://www.instagram.com/dustibowling/ 
Goodreads: https://www.goodreads.com/author/show/5346515.Dusti_Bowling 
Follow The Tour:
TOUR SCHEDULE:
August 14th
Eye-Rolling Demigod's Book Blog – Promotional Post
August 15th
Paiges of Novels – Promotional Post
Confessions of a YA Reader – Promotional Post
August 16th
The Book Dutchesses – Promotional Post
One More Exclamation – Review
August 17th
the daily librarian – Review
August 18th
Chatter Shelf – Review
The Book Review Crew – Review, Favorite Quotes
August 19th
Stuck in Fiction – Promotional Post
The Clever Reader – Top 5 Reasons to Read Dust
August 20th
Boys' Mom Reads! – Review
Instagram:
August 14th
writingrosereads – Promotional Post
pagesforpaige – Top 5 Reasons to Read Dust
morningstarlitpages – Review, Mood Board
August 15th
mythicmelancholy – Top 5 Reasons to Read Dust, Journal Spread
rickys_radical_reads – Review
paiges_of_novels – Content Creator's Choice
August 16th
bookdemonio – Promotional Post
nissa_the.bookworm – Review
onemoreexclamation – Content Creator's Choice
August 17th
dhirviepages – Review
froggyreadteach – Review, Creative Post: Little Free Library Drop
get.outside.and.read – Top 5 Reasons to Read Dust
thedailylibrarian – Content Creator's Choice
August 18th
ninebookishlives – Promotional Post
ablueboxfullofbooks – Creative Post: Little Free Library Drop, TikTok
thebookreviewcrew – Content Creator's Choice
August 19th
tbrandbeyond – Promotional Post
laurensbookvibes – Review
thecleverreader – Content Creator's Choice
August 20th
shygirlediting – Review
the_bibliophilic_world – Review
enthuse_reader – Review, TikTok