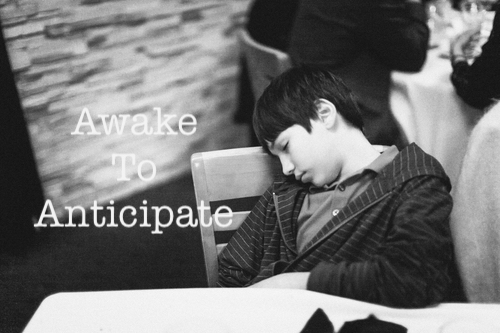 You remember when you were a kid and Christmas seemed to take forever. My mom used to use that old tried and true way to get me and my brother to behave through the year: "Boys, Santa is watching and Christmas is just (fill in the blank) away!" Well, the older I got the shorter that line would get me to behave! And Christmas seemed to come quicker and quicker as my birthdays increased! Now it seems Christmas is every other week!
Anticipation is a powerful tool to help humans sort priorities, make choices, and even delay gratification for a good cause. But, like any good thing, the purpose of the evil one is to distort and derail the good aspects of anticipation with the counterfeits of fear and dread. Hence, he desperately wants us Christians to look at the Second Coming of the Lord with all kinds of distractions, gossip-like speculation, and even fantasy-driven Hollywood productions. All the while distracting us from the real power of the promise of the Parousia to accomplish the one, central goal of that promise made by the Lord: to mold us and shape us into a fit habitation for His eternal Presence.
Let's set the context of the passage we are looking at today; the Lord is preparing His disciples for the inevitable moment when He will face a Roman Cross. He uses the classical language of the Hebrew scriptures and the style of the words of the Hebrew Prophets of old. The disciples are quite familiar with this type of teaching, having heard the Prophets like Jeremiah, Isaiah, and Nehemiah all read in the synagogue all their lives.
Look at our Gospel Lesson today in Matthew 24:27-33, 42-51.
"Watch therefore, for you do not know on what day your Lord is coming. But know this, that if the householder had known in what part of the night the thief was coming, he would have watched and would not have let his house be broken into. Therefore you also must be ready; for the Son of man is coming at an hour you do not expect.

"Who then is the faithful and wise servant, whom his master has set over his household, to give them their food at the proper time? Blessed is that servant whom his master when he comes will find so doing. Truly, I say to you, he will set him over all his possessions. But if that wicked servant says to himself, 'My master is delayed,' and begins to beat his fellow servants, and eats and drinks with the drunken, the master of that servant will come on a day when he does not expect him and at an hour he does not know, and will punish him, and put him with the hypocrites; there men will weep and gnash their teeth." (Matthew 24:42-51)
St. John comments on this teaching of the Lord when he says "Beloved, now we are children of God, and it has not yet been revealed what we shall be, but we know that when He is revealed, we shall be like Him, for we shall see Him as He is. And everyone who has this hope in Him purifies himself, just as He is pure. (1 John 3:2-3)
Today, be awake to the purpose of the Creed we declare at each Divine Liturgy when we say "And He will come again in glory to judge the living and the dead." The purpose isn't to satisfy our curiosity about an increase in earthquakes or a seeming escalation of Middle East tensions. The purpose of our healthy anticipation of the Parousia is to become wise servants who know how to watch, and how to stay awake. For wise servants, the Parousia will not be a surprise because they have learned how to so discipline their lives to be ready to receive Him at any moment.
As we finish up the last great feast of the Church year with the Feast of the Dormition, it is telling the Church finishes Her year of catechetical wisdom with the "Summer Pascha" of the Dormition. Making us attentive to both our ultimate and unavoidable appointment with mortality AND the very temporary nature of our body and soul separation is another clear instruction for us to practice attentiveness to those two sobering realities. Are you preparing your life to finish well, and are you learning how to enjoy eternity with Christ? The whole of the Church; the whole of the Orthodox faith is summed up in those two questions. The Faith is designed to form the character of Christ within you so that you see with His eyes, you think with His mind, and you act as His hands in your world. This is why I constantly confront myself with reorienting my mind to a truly Normal Orthodox Life that sheds the easy distractions of the evil one, with the eternal wisdom of the Faith. Don't leave this wisdom unrecognized in your life. Don't treat the Faith as a mere cultural decoration. Embrace attentiveness formed by wisdom and watch your life be transformed by it.
Why do you think the Church has you recite the Creed at every Divine Liturgy? Why do you think the Church calls you to pray, fast, and give alms? The disciplines of the Church are designed by the Holy Spirit to create wise servants who have healthy anticipation. So many treasures for you! So many spiritual medicines to give you and your community everything you need to be ready, to be at peace! Jesus Christ will come again, and those who prepare will be filled with joy to see Him whether they meet Him at their own physical passing or they are part of the generation that sees Him coming in the clouds. But make no mistake, the promise is to make you ready for either moment! And to form in you a Normal Orthodox Life!
P.S. In birth, you preserved your virginity; in death, you did not abandon the world, O Theotokos. As the mother of life, you departed to the source of life, delivering our souls from death by your intercessions.
Your Support Shares this ministry with others! Thank you!

Related Articles