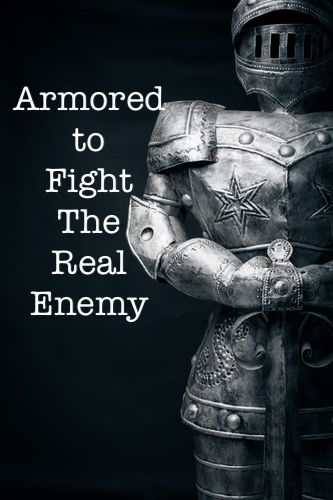 I love this Armed Forces Motto: "The more you sweat in training, the less you bleed in battle." Isn't that great? In other words, when you put the time into preparing for battle, you are more ready to face the fight. And what is true for physical fighting is also true for the spiritual battle each of us faces every day!
What? You didn't know this was going to be a fight to be Orthodox on Purpose? Yep, it is. In fact, I was telling a fine young man the other day as we were talking about a particular struggle he was having in his labor to be a purposeful Orthodox Christian that he needed to stop wondering when he was going to be finished with this struggle. One consistent bit of wisdom that comes to us over and over again from our wise fathers and mothers in the Faith is that we are going to struggle for the rest of our lives; even to our very last breath. So, abandon the fantasy of finishing with the spiritual labor of Faith.
Look at our lesson today from Ephesians 6:10-17, and you'll see what I mean:
Brethren, be strong in the Lord and in the strength of his might. Put on the whole armor of God, that you may be able to stand against the wiles of the devil. For we are not contending against flesh and blood, but against the principalities, against the powers, against the world rulers of this present darkness, against the spiritual hosts of wickedness in the heavenly places. Therefore take the whole armor of God, that you may be able to withstand in the evil day, and having done all, to stand. Stand, therefore, having girded your loins with truth, and having put on the breastplate of righteousness, and having shod your feet with the equipment of the gospel of peace; besides all these, taking the shield of faith, with which you can quench all the flaming darts of the evil one. And take the helmet of salvation, and the sword of the Spirit, which is the word of God.
St. Paul writes this Epistle during his first stint in prison in Rome, and, while it is addressed to the Ephesian parish he founded, it was probably meant to be shared with several churches around the area as well. Paul's main theme is that the Church is the Body of Christ and we are in the world to keep being the physical Presence of the Lord on the earth!
And that guarantees we are going to be in a struggle. But not necessarily a physical struggle, although that certainly happens, a struggle with the mindset of a world that has decided to factor God out of their way of living. As the Church, we do just the opposite. We make knowing God and being with God our top priority in everything. And learning how to do that in our own hearts means we are going to have to fight to keep that focus! St. Paul tells the Church just how to do that.
First, St. Paul tells us to "BE" strong. But this strength isn't our strength. This strength comes from the Lord. How many times have I run out of gas living my life based on depending only on myself? How many times have I run aground, burned out, and depressed that I'm still failing to overcome this or that habit or bad choice? All the while I fail to appreciate the strength that could be given to me from a life of consistent Faith. God wants me to draw on His strength to struggle because that's the ONLY way I'm going to ever struggle all my life.
Next, St. Paul tells us to "armor up." This famous list of the armor of God for the Church is a wonderful source of insight and wisdom. There's the "breastplate of righteousness" to protect my heart. The "Gospel of Peace" protects my feet. The "Shield of Faith" I hold out in front of me to protect me from the arrows of the "enemy." The "Helmet of Salvation" guards my mind while I use the "Sword of the Spirit – The Word of God" to attack my enemy. Notice what's missing? Yep, no armor for my back. Because we are attacking our "enemies" for our salvation, and we always fall when we begin to retreat!
Finally, notice, that none of these enemies is human, not a one, never! We are fighting mainly our own spiritual weakness and blindness, never other humans. We have no human enemies. No matter what, we cannot do anything but love those who hate us. A great, old saying is "Be angry at the demon that temps, but never at the person who stumbles." It is only this distinction that sets Christians as true followers of Jesus rather than the spirit of the age that seems hell-bent on revenge and envy. We are called to a higher purpose.
The great martyr St. Eustathios was called Placidas before his Christian baptism. He was also a great Roman general during the reign of Trajan, the Emperor. One day, while he was hunting, he saw a majestic Stag in the woods, and between the antlers of the Stag, there appeared a cross. The Stag spoke to him in a human voice and urged him to become a Christian. When he returned home, he learned that his wife had had a vision where she was instructed to become a Christian as well. So he and his wife and their two children were baptized by the local Christian bishop of the area. Eustathios saw his career wane and he and his family suffered greatly. After many years, they became physically separated but found each other again while on pilgrimage to Jerusalem. Sadly, the new Emperor Hadrian, who had succeeded Trajan as Emperor, learned that one of his generals did not offer sacrifices to the gods. St. Eustathios and his family were placed in a large caldron and gave up their lives as witnesses to the Faith. St. Eustathios refused to fight the flesh and blood people as enemies because he knew who the real enemy was and he and his family won the crowns of victory over that ancient foe.
Today, how's your battle going? Are you proactively arming yourself to fight for your spiritual health? Are you "dressing" for battle every day? Or is life living you and carrying you along as you enter the slavery of your passions "without a fight?" Perhaps it's time to get ready for the real battle in your life and live a Normal Orthodox Life.
P.S. O blest one since you did emulate Christ's sufferings and drank His cup with eagerness, you did become a partaker and joint-heir of His glory, O wise Eustathius; and since He is God of all things, He gave you divine power from Heaven's heights. Pray to God for us!
Soon we will have a different delivery system for our Daily Devotionals. Please make sure you know how to get these devotionals by signing up at FaithEncouraged.org

Related Articles